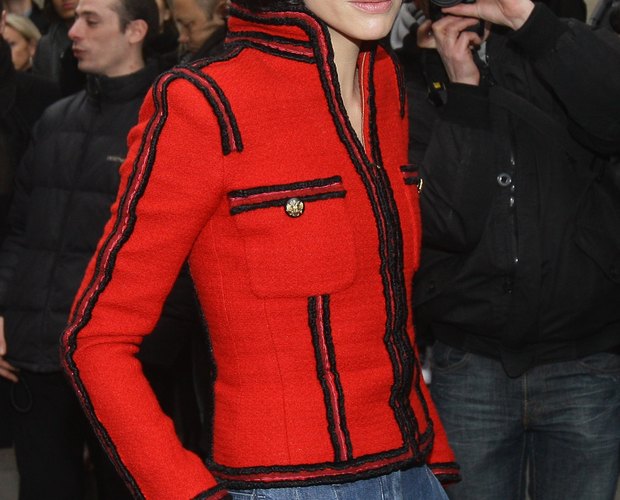 Francois Durand/Getty Images Entertainment/Getty Images
Scoring an invite to a fashion show is a dream come true for many fashionistas. But once the excitement dies down, you may be stressing out over what to wear to the show. In a room full of people who know about fashion, dressing to impress is definitely more complicated. That's why keeping your look simple with just a few key statement pieces is the way to go.
Keep It Casual
A casual look is usually the best approach to fashion show style, because it won't seem as though you're trying to compete with the models on the runway. Start with your favorite pair of jeans – a skinny style for a fresh modern look or an always-appropriate boot-cut pair. Pair them with a tailored blazer and a simple V-neck tee to keep the look relaxed yet stylish. Add a pair of high-heeled boots or stilettos that really make a statement – you don't really have to worry about comfort because you'll be sitting for the show. To really pull the look together, add a bold statement necklace.
Opt for a Dress
Adopt an equally casual look with a dress in a low-key style for an effortless, stylish look. A shift dress features an uncomplicated design, usually ends at or above the knees, and has a loose fit at the waist to give it a relaxed feel. Put on a simple white or cream shift – wear it alone with a pair of dramatic chandelier earrings or with a statement necklace. Layer a denim jacket over it to play up the casual look. Add a pair of eye-catching studded pointy-toe pumps or open-toe toe booties and a pair of sleek aviator sunglasses for a fashion-forward vibe.
Keep Your Edge
If you like to stand out in a crowd, go for an edgier look. Start with a funky leather jacket – a style that features studs or grommets is a sexy option, or go bolder with a jacket that features colorful appliques or airbrushed details. Throw it over a simple cotton T-shirt or tank top and skinny black jeans. Pair the look with motorcycle boots for added edginess or add a little sexiness with a fierce pair of stilettos.
For the Guys
A suit is the easiest option for men heading to a fashion show. Mix things up if you prefer a more striking look. Instead of your usual tie, leave the top few buttons on your dress shirt undone and add a plaid scarf. Or swap your suit pants for your favorite jeans to give your outfit a more casual, rugged feel. Leave off your suit jacket and wear a cardigan or pullover sweater instead for a preppy look.