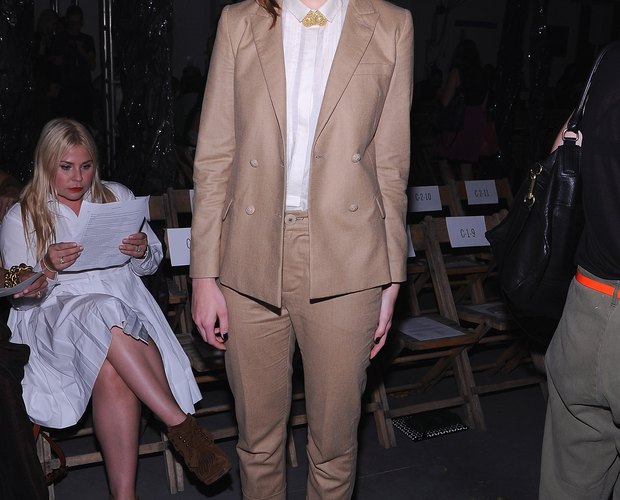 Fernando Leon/Getty Images Entertainment/Getty Images
Though there is no definitive definition of the color taupe, it generally means a grayish brown with warm undertones. There is sometimes a slight rose tint, but the color is predominantly neutral, not pink. As a neutral, taupe flatters most skin colors. A well-cut and -styled taupe pants suit looks very professional when combined with appropriate accessories; a feminine blouse and jewelry can turn your taupe pants suit into the right choice for a casual wedding, party or date. Regardless of style, you will need to choose the right color shoes to complete your outfit. Taupe works well with many colors of shoes.
Neutrals
It's hard to go wrong with basic black. Set off your taupe suit with a flattering pair of black heels or ballet flats. For a softer look, shoes in dark gray with the same undertone as the pants are a good option. If you choose brown shoes, make sure the brown has a touch of gray, rather than gold, to keep the tones from clashing. White is too harsh with your taupe suit, but a cream shoe is a nice choice for a daytime event.
Brights
As a neutral, taupe works well with many bright colors. If you are wearing a patterned shirt under your jacket, look for a bright pump, strappy heel or loafer in a color that matches the shirt. If you are wearing a neutral blouse, set the outfit alight with bright shoes and belt. Hot pink is especially good with taupe, as are deep purple, cobalt and emerald. Red with a blue base is another option, but avoid orange or yellow tones.
Metallics
Metal-toned leather isn't always in style, but when it is, it makes a statement. You won't want to wear metallic shoes to a job interview or casual daytime event, but if you are heading to a formal occasion, a party or an evening out, metallic is a great way to add a little excitement. Stick with tones that have a gray base for good effect. Pewter, silver, steel gray or black with a metallic finish all look elegant peeping out from the hem of the pants.
Hosiery
Once you have the perfect pair of shoes picked out, it's time to decide on your hosiery. You can go several ways. With black shoes, black socks or hose create a streamlined look. For other neutral colors, trouser socks or hose in a neutral bone, taupe, tan or pale gray look professional. If you want to get a little daring, pair your taupe suit and neutral shoes with bright fuchsia, purple or cobalt blue trouser socks. For an evening look, pick hosiery with metallic threads for a touch of elegance.