Japanese women have formed their own signature style of makeup. It is a very defined look that uses a lot of contrasting colors that emphasize and exaggerate the facial features, especially the eyes. The items to keep in your beauty toolbox would be black eyeliner--either the pencil kind or a liquid liner--concealer for keeping your skin looking smooth and even, and white eyeshadow or eyeliner. The two main styles of Japanese makeup are "Ulzzang" and "Gyaru," with "Ganguro" being a more alternative and wild style.
Foundation and Concealer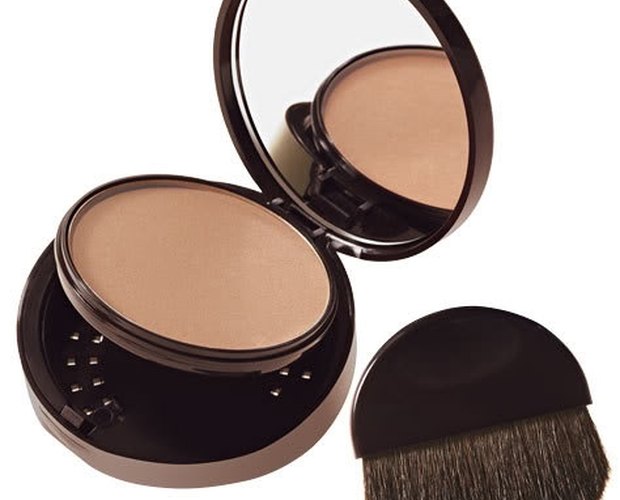 Japanese makeup styles call for a flawless and smooth complexion, so apply some concealer and foundation to hide any blemishes and even out your skin tone. By applying foundation you are essentially creating an ideal base for the rest of the makeup. Eye shadows, blush and bronzer adhere better to your skin when it is 'primed'. Think of your face as the canvas for your Japanese-inspired makeup. The base of your face is generally the same for all Japanese makeup styles; what style you pick mainly depends on how you want to define your eyes.
Ulzzang
Ulzzang means "best face" and is a Korean slang term but it is used to refer to the more neat and conservative Japanese makeup style. This style is characterized by a shimmery and light base around the eyes, and a medium-to-dark shadow on your upper eyelid up to the crease, but not above it. Since this is supposed to be a more natural look, use a neutral color such as taupe, brown, or gray. Line the top and bottom of your eyes with black liquid eyeliner and wing it out on the outer corner to give the "cat-eye" effect. Highlight your eyes with white eyeliner on the lower waterline and dust some white shimmery eyeshadow in the inner corner. This will make your eyes appear larger and brighten them up. Curl your lashes and apply a few coats of mascara.
Gyaru
Gyaru is a Japanese term that means "gal," and it is a much more bold and glamorous look. Again, the emphasis all on the eyes and how they are emphasized by the make-up style. Start by brushing a white shimmery or light beige eyeshadow all over your upper eyelids. Apply a medium color to your eyelid and extend it either right below the crease or a little above it. Use a darker shade in the outer corner of your crease. Line your eyelids--above and below--with black eyeliner. Draw the black on the lower waterline and you can add the "cat-eye" technique to this look as well. Blend and soften your liner with some black eyeshadow for a smokey effect. Since Gyaru is very glamorous, apply false eyelashes to the top and bottom lashes.
Ganguro
Ganguro is the more shocking and alernative of the Japanese makeup styles. This style is much more underground and those who wear ganguro makeup also wear wild clothes with neon colors. "Ganguro" means "black face" so you will either need to use a foundation that is several shades darker than your natural skin tone or just get a very deep tan. Note that you will need to apply this darker color everywhere that you have skin showing. Use a bright white or pastel color on your eyelids and your lips. People wearing Ganguro-style makeup use black eyeliner to line around the lashes and apply mascara or false lashes to emphasize the eyes. Since this is a wild look, you can add streaks of white or other pastel colors to your cheeks or even draw stars or hearts.