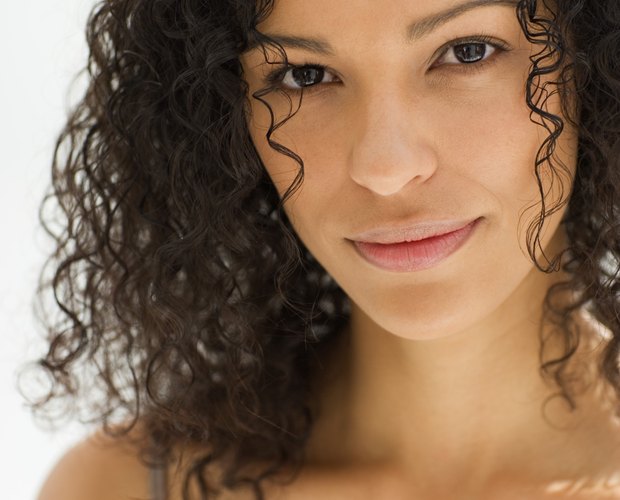 Pixland/Pixland/Getty Images
Many women lust after curly hair. Whether you have straight hair and want to switch up the texture, or you have unruly curly hair that you want to tame with uniform curls, flexi rods are a great option for hairstyling. Flexi rods are small rollers that can create tight, spiral curls. Unlike foam and plastic rollers that can create inconsistent curls, flexi rods make even ringlets throughout the entire mane. Get the hair you desire by using these simple and effective styling tools.
Wrap a small section of wet hair around the flexi rod. Start at the end of the section of hair and wrap towards the root of the hair. The flexi rod will be secured in the hair and stay put by bending the ends inward. Continue to wrap each section of hair until all hair is curled.
Tie a satin hair wrap around your head and leave flexi rods in overnight.
Remove the flexi rods in the morning or when hair is entirely dry. After unwinding all the curled sections of hair, spritz locks with a holding hairspray that includes shine serum. This will make your strands shiny and keep your curls in place throughout the day.
Tip
Shampoo and condition your hair in the evening. Hair should be clean and moisturized before being curled. Moisturizing shampoo and conditioner will create sleek, smooth strands while keeping frizz under control.Clean flexi rods regularly with a mild soap and warm water.
Flexi rods come in all different sizes. The smaller the rod, the tighter the curl. Create mismatched curls throughout your hair by wrapping sections around differently sized flexi rods.
If you're unable to leave flexi rods in overnight or you want to style your hair quickly, use a hooded dryer to set hair before removing the flexi rods. Alternatively, you can use a blowdryer with a diffuser attachment. However, keep in mind that drying hair with a blowdryer may cause uneven drying and negatively affect the appearance of curls.
Warning
Avoid drying hair with a towel after shampooing. While it may be uncomfortable to leave hair sopping wet, hair needs to be as wet as possible for flexi rods to work their best.
Look at the ingredients list on hair products. Products that contain alcohol may cause certain hair types to become sticky or hardened in areas. Alcohol may also make strands feel sticky, which will make them hard to work with.