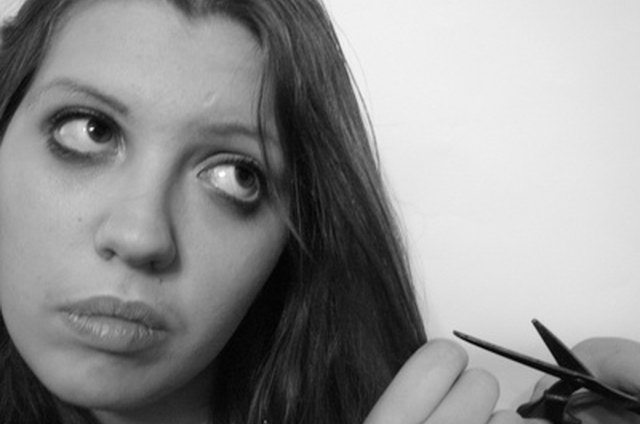 girl cutting hair image by Tammy Mobley from Fotolia.com
A widow's peak is a distinct V-shape that dips down along the hairline. Celebrities such as Marilyn Monroe, Fran Drescher, Colin Farrell and Leonardo DiCaprio all have widow's peaks. Many people find themselves fixated on hiding or disguising their widow's peak with the idea that a straighter hairline looks more natural and attractive. There are various hairstyles that can help you look and feel your best, whether you like your widow's peak or are uncomfortable with it.
Curls
Add some swooping, rounded curls around the crown of your head to help soften the effect of your widow's peak. Create a romantic, face-hugging hairstyle that takes the attention off of your V-shaped hairline. Wispy, tapered edges and long layered curls with most of the volume at the jawline create a balanced look.
Bangs
Create a deep side part and style long side-swept bangs over your widow's peak. Alternatively, create spiky, undercut bangs that will blend in with your V-shaped hairline and frame your face attractively. Avoid cutting bangs too bluntly, which can look severe.
Layers
Long layers that hit at ear-level or below will soften the effect of a widow's peak and add texture and volume to your hair. Avoid a center part unless you want to draw attention to your widow's peak.
Natural
Choose a hairstyle that focuses on your overall face shape to compliment your naturally unique hairline. Go long and layered for square and heart-shaped faces. Go for side-swept bangs with a round face or try a choppy bob for a long, oval face.