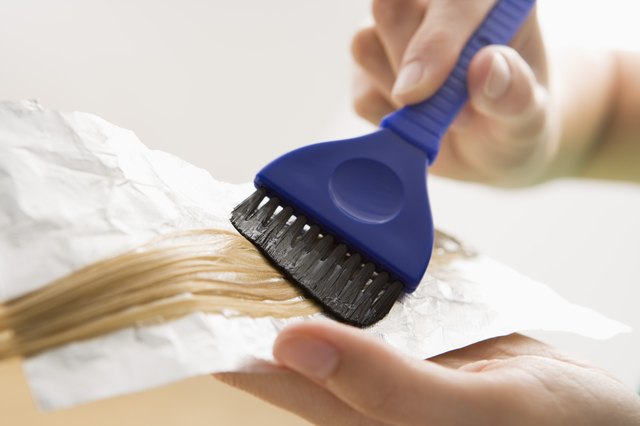 BananaStock/BananaStock/Getty Images
The industry of hair highlighting methods has grown in such way that it has brought forth innovative techniques which cost less than conventional ones. Peek-a-boo, a new highlighting method, offers more than what customers expect.
Peek-a-Boo
In contrast with normal highlighting methods, peek-a-boo doesn't need bleaches. Peek-a-boo highlights are applied randomly to the hair with a freehand painting technique. In some cases, the hair is folded before the mixture is applied. In other cases, folding is not necessary, since it's not an essential step. Peek-a-boo highlights generate stunning effects on the hair, making a look as if the locks were "peeking" out, hence the name.
Benefits
There are no limits when it comes to styling with peek-a-boo. The client can choose any color that might suit her hairstyle, and may play with the range of possibilities. Furthermore, since peek-a-boo highlights can be strategically applied in any one hair zone, the user can apply as many colors as she desires to create a colorful hairdo.
Avoid Disharmony
When women have a full hair dye, as time passes, the original color starts to appear again, creating disharmony between the original color and the dye color. However, with peek-a-boo highlights, the user isn't dying her entire hair, so she won't have to worry about exposing her original hair color. That way, she can avoid color disharmony.
Styles
With peek-a-boo highlights, the number of possible hairstyles is immense. Adding peek-a-boo color in the surface of under-layers is a suitable technique for those with a bi-level cut. Coloring the front bangs which peek out through the fringe draws people's attention to the face. Normally, light-haired people, like blondes or light brunettes, choose hair lowlight shades to create contrast between darker peek-a-boo hair and light natural hair.
Maintenance
There isn't any need for additional, expensive shampoos or periodic treatments. Using a hair conditioner at home just once a week is enough.