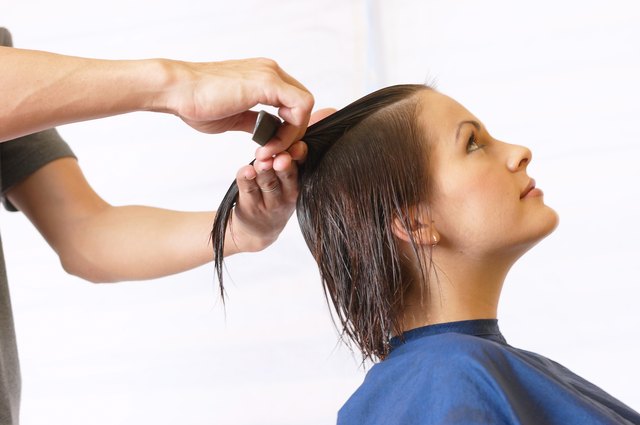 Hemera Technologies/Photos.com/Getty Images
Our face shape plays a big role in our fashion choices. The wrong pair of sunglasses, or worse, the wrong haircut combined with the wrong face shape could mean months of headbands and ponytails. It's important to know what styles play up your face shape and accentuate the positive.
Identification
Pear-shaped faces have a full jaw line and a smaller forehead area. The chin is usually rounder so the bottom half of the face appears wider than the top; essentially, creating a pear shape.
Put your best face fore-ward
Because the forehead is the narrowest part of the face, showcasing it can create an illusion of proportion. A shorter style such as a wedge or stacked haircut creates more fullness at the top of the head and balances out the proportions. This can best be seen on pear-shaped face celebrities like Victoria Beckham.
Try bangs
Adding a long, wispy bang to a long, layered hairstyle is a great look for a pear-shaped face. Falling below the eyebrow and worn swept to the side, the bangs create more of a balancing act.
Pump up the volume
Pear shapes look great with a lot of fullness on the crown of the head. While most girls feel overwhelmed with a great up-sweep hairdo, pears can pull these looks off with sophistication. Pull hair back into an elegant bun or a classic pony with a bit of volume.
Opt for a Shag
A great hairstyle for pears is the Shag. More full on top with thinner layers on the ends, this hairstyle tends to make the face look more oval. This look works whether hair is short or long and was probably made most famous by Jennifer Aniston in the 1990s. The haircut works with most face shapes and the updated version looks great on pear-shaped faces.