From round and oval to square and oblong, every face shape has its distinguishing characteristics, and some features are more prominent than others. Take, for instance, heart-shaped faces, which tend to have strong chins. If you have a heart-shaped face and want to downplay your jawline, you can employ various contouring makeup and hairstyle techniques to draw attention away from your chin and highlight other parts of your visage.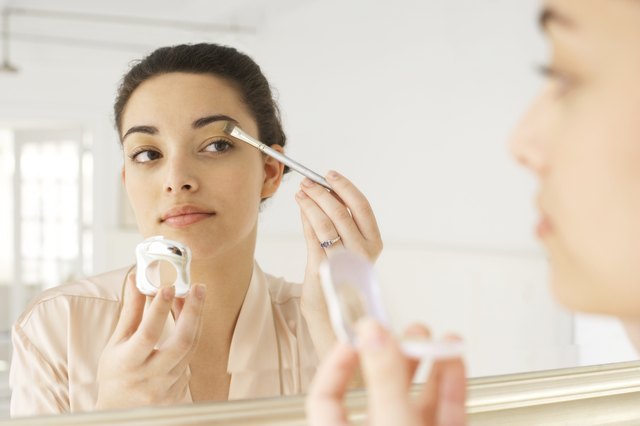 Pick Your Products
Choose makeup products that work well with your skin type. If you tend toward dry skin, choose a cream concealer that's one or two shades darker than your own natural skin tone. If you have mixed or oily skin, opt for a powder bronzer in a slightly darker shade than your skin tone. Avoid any bronzer or concealer with sparkles or shimmer, as these will only draw attention where you don't want it. Invest in a cream highlighter as a contrast to the darker concealer. This product will be just as important as your shading product.
Highlight Your Best Features
Play up your favorite features and create a basic canvas to draw attention upward and away from your chin. Apply a moisturizing foundation to your entire face that matches your skin tone as closely as possible. Fill in your eyebrows with a brow pencil to create a strong brow line, and apply a warming pink or peach blush to the apples of your cheeks to add warmth and shape to them. If you want stronger cheekbones, apply the blush underneath the cheekbone. Keep lipstick on the light side in a soft berry or neutral shade. These extra shaping steps will help give definition to the rest of your face and draw attention upward.
Downplay Your Chin
Once you have the basic facial framework set, you can now contour your features to downplay the chin area. Load a stiff contour brush with the slightly darker concealer. If you are using a powder, tap off any excess product before using the brush. Apply the concealer to the point of your chin, and blend in the product down and under your chin. Apply some shading product along the temples and sides of your face to create a soft, slim shape. Once you've shaded your features, apply the cream highlighter along your jawbone to create structure and definition. Blend the highlighter out completely for a natural look.
Turn to Your Tresses
Contouring makeup does a lot of the work to downplay your chin, but you can take the idea of shaping and flattering to the next level. Make your hairstyle your fast and steady ally. If you have a thin face but a prominent chin, a short bob or full, luscious curls will draw attention outward and open up your face. If you have a square jaw and a prominent chin, wear your hair on the longer side, cascading over your shoulders. Alternatively, wear your hair in a polished side braid for a slimming, playful look.