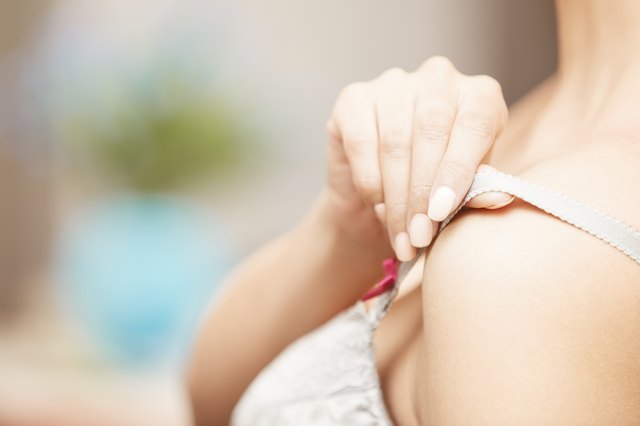 If you are tired of hitting the stores to spend outrageous prices on a bra that isn't your true style, you might want to consider making your own bra home. There are many benefits to making your own bra at home, including a better fit and more choices in style, design and material. Making your own bra can be a fun activity that usually takes less than an hour.
Select the material for your bra. You could use two brightly colored thick cotton handkerchiefs or scarves.
Choose three ribbons that match. Two should be long enough to serve as bra straps, and the third needs to be long enough to act as the band that secures the bra around your body.
Stand in front of a full length mirror and measure your rib cage by using a measuring tape around your ribs and pulling on it until you have a snug fit. Sew a hook and latch connector or Velcro connections on each end of the band ribbon that is cut to your measurements.
Fold each of the two fabric pieces you chose until they each form a triangle that covers your breasts. Slip the longest ribbon into the folds of each of the triangles, centering the triangles on the ribbon.
Sew the edges of your two triangles together at the point where they touch, then sew the band ribbon into place. This is the front of your bra.
Secure a ribbon to the top of each one of the triangles by sewing it firmly into place. Try the bra on by securing the long ribbon behind your back.
Slip the ribbons from the top of the triangles over your shoulders and mark the spot where they join the longest ribbon. Use a pencil to mark both the shoulder ribbon and the longest ribbon for each side.
Take off the bra. Use a needle and thread to secure the shoulder strap to the longest ribbon on each side.
References