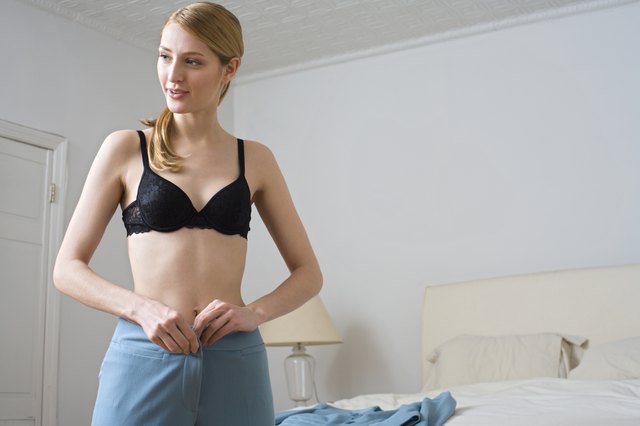 Creatas Images/Creatas/Getty Images
Poorly fitting bras can leave your breasts droopy, and puckers in your bra can show through and create unwanted wrinkles in your clothing. While there are a variety of different bra-fitting problems, fixing a puckering or loose bra cup is relatively easy. In some cases, this is a size problem, while in others it is a style or fit issue.
Slippery Straps
The problem with your puckering bra cups may be as simple as too-loose straps. A correctly sized bra may pucker, especially if you're small-busted, when the straps are loose. While your bra straps should not be so tight that they cut into your shoulders, they should fit snugly. Adjust the straps to bring the cup up and reduce potential pucker.
Puckers in One Cup
It's common for women to have at least a slight size difference between their breasts. If one cup fits well but the other puckers, you may need to choose a different bra style or make some simple changes to avoid puckers on the smaller side. A molded-cup t-shirt-style bra is adequate to eliminate fit issues caused by asymmetry. You can also add a small push-up pad, or cutlet, under the smaller breast to eliminate puckers in the cup. Bras with a stretch cup may be more forgiving.
All-Over Puckers
If both cups of your bra are rippled and puckered and you've adjusted the straps, it's likely that you're wearing a cup size too large. Drop one cup size without altering the band size; for instance, choose a 34B instead of a 34C. If you're between sizes, see if you can find an in-between size, or try on different brands to see if one brand fits better than another. Choose a size that provides appropriate support and a smooth-fitting cup.
Style Issues
If your breasts are fullest at the bottom and you're wearing a full-coverage bra, you may find that it puckers in the upper portion of the cup. In this case the cup may be the correct size, but simply fit your body poorly. This is not a size issue, but rather a shape and style issue. Try a demi- or balconette-style bra in place of a full-coverage bra to eliminate puckers and create a rounded appearance.