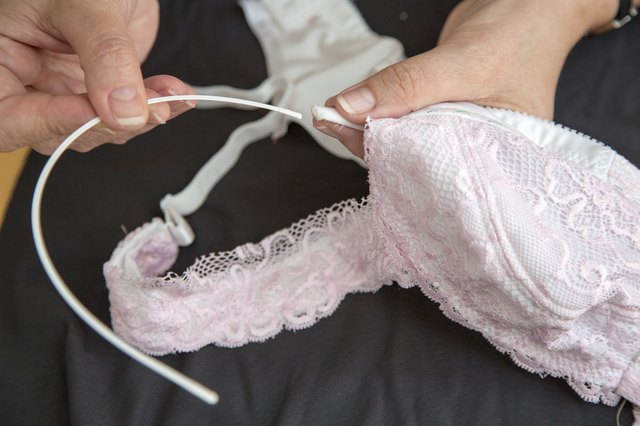 Ikonoklast_Fotografie/iStock/Getty Images
Whether you need extra support or just want more lift to enhance your cleavage, an underwire bra gets the job done. But your favorite bra can get uncomfortable in a hurry when the underwire starts coming out and poking your skin. There's no need to throw your lingerie away, though -- with a few simple stitches, you can wear your bra in comfort once again.
Set the wire in place by snaking it back inside the bra. Push down on a small section of the wire while pulling up on the bra's fabric. Do this until the wire is below the hole or tear that it came out of or you can't push it any further. Leave enough space to close the opening.
Cut a length of thread approximately 36-inches long with a 45-degree angle at the end. Thread your needle by folding a small portion of the thread over the eye of the needle and pressing it together tightly. Pull the needle out and push the folded portion of the thread through the eye, creating about a 6-inch tail. You don't need to double your thread.
Tack the long end of the thread on one side of your bra's tear to prevent it from coming loose as you sew by creating five or six extremely small stitches on top of one another in the same spot. Leave a 2-inch tail when you begin the stitches, which you can trim when you're finished sewing.
Close the bra's tear with a series of small, tight stitches all along the opening. Stack them side by side until the entire tear is closed. In most cases, a single pass across the opening should be sufficient.
Tack off the end of thread on the opposite side of the opening from where you started. Trim off the excess at each of the tack sights so the mend has a neat, finished look.
Tip
Choose thread that matches the fabric of your bra to help conceal your stitches.