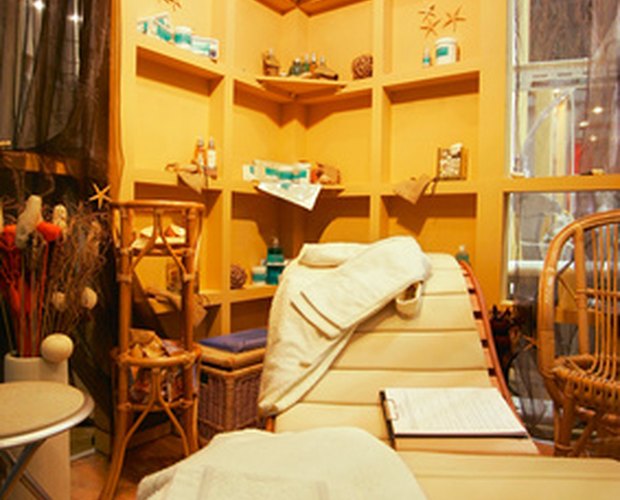 The key to a successful spa is a well designed floor plan. Style and function can be combined seamlessly to create the perfect environment for relaxation. Most spas provide massage, facial, body and nail treatments. The scope of these treatments depends on the size of the facility and budget of the owners. A spa that can offer the widest range of services will be a one stop shop for clientele that will keep them in your spa for hours, if not the whole day.
Before you choose a location to build your spa, define your style. Whether it is urban chic, ultra modern, classically elegant, resort or cottage comfort, your spa should have one main theme. When considering a theme, keep in mind the timelessness of your style. Trends come and go and you don't want to have to redecorate your spa in five years when it becomes outdated.
Find a location for your spa. Large spas do well in a stand alone building but the cost of owning or leasing a stand alone building is very high. If your spa is new and has a small budget for advertising, a shopping center or other high foot traffic area will pay off in walk in clients. In shopping centers, you are leasing a space that is literally a shell of a business. Make sure to understand the lease agreement terms applying to signage and maintenance of the building and factor additional costs into your budget.
Contact a general contractor. A general contractor will identify where your main plumbing and electrical lines are located. Having these locations in mind when you design your spa will save you money in re-routing crucial fixtures.
Determine the number of wet and dry treatment areas you would like in your spa. Most treatment rooms require some plumbing but keeping the areas that require more water close to the main water supply will minimize your demolition and plumbing costs in the building phase. Take into account where your laundry facility will be located as well.
Consider the flow of traffic in your spa. Place quiet treatments such as massages and facials far away from louder treatments such as pedicure chairs, showers and reception areas. Place the retail and reception desk at the front of the spa and then working front to back, place the loudest then quietest treatments to assure maximum relaxation for the guest.
Maximize your space by evaluating revenue generating areas and non revenue generating areas. The majority of your spa should make you money. While large relaxation rooms are nice to show on a tour, those guests relaxing are not making you any money so add some retail shelves and double the relaxation room into a spa lunch room to get the most out of your space. A break room is also important but not a revenue generator so think about combining it with your laundry room to save space.
References