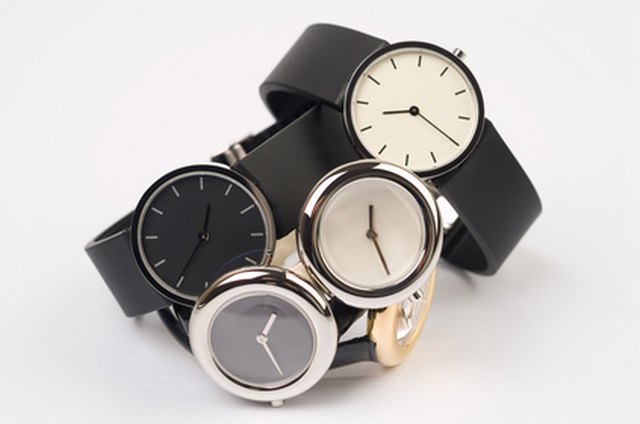 Fossil has an extensive line of fashion watches sold in department stores and specialty retail stores in more than 90 countries around the world. According to Fossil, the heart and soul of the brand are its people, products and culture. No matter what style Fossil watch you wear, changing the date and time are simple tasks.
Analog Watch
Pull out the crown of your analog watch and turn it to position 2. This is the silver or gold dial located on the right side of your watch. The positions are 1, 2 and 3. When pulled out, the first notch is position 1, the second notch is position 2, and so on.
Turn the crown clockwise or counter clockwise to set your preferred date.
Once the desired date is located, push the crown back into place to set.
Digital M753
Locate the buttons A, B, C and D on your watch. The A will be on the top left, B on the bottom left, C at the top right and D on the bottom right. Remember, each watch is different. If you have a different model, consult the instructions for possible variations.
Press B and hold for two seconds to enter setting mode. Seconds will then begin flashing. Press C to reset the seconds to zero or press A to set and advance to the next setting. The setting sequence is as follows: seconds, hours, minutes, month, date, weekday and 12/24 hour time format. You must press the A button to advance through the seconds, hours, minutes and month before reaching the date format.
Press C to reach the numerical number of the date you wish to set your watch. Once set, press B to save, exit and return to the normal time display. In normal time display, flash the month/date by pressing C in order to make sure you've set the date that you desire.
Tip
If you need to order a copy of your watch model instructions, you can call 1-800-449-3056 or reach the customer care department by mail at:
Customer Care Department c/o Fossil 2280 N. Greenville Ave. Richardson, TX 75082