Ah, summertime. When the temperature climbs and humidity ramps up, you're left with the potential for a sticky makeup situation. But, if you're sure your makeup routine encompasses the right formulas, colors and ingredients – and if you're strategic about what to leave in and what to leave out – you'll breeze through summer with a fresh face.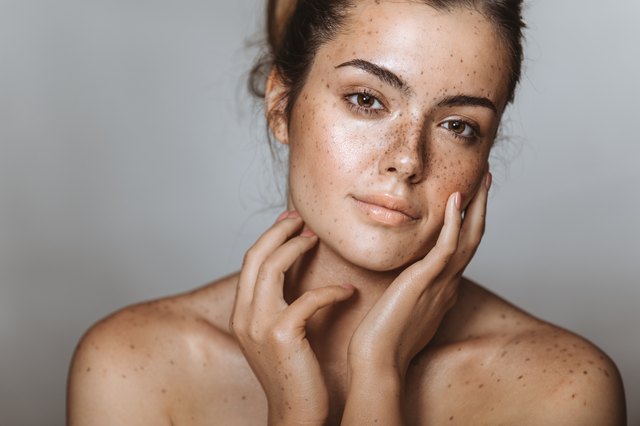 Prep Your Skin
Start off on the right foot by preparing your skin to stand up to the elements. Use an oil-free moisturizer and follow with an oil-control primer, which gives skin a matte finish due to its oil-absorbing properties. Such primers do an excellent job of keeping makeup in its place, preventing your color from running. Don't forget to add an eye-shadow primer as well. If you need added coverage on your skin, a lightweight BB cream or oil-free concealer is preferable to all-over foundation. Simply apply the pigment to dark or blemished areas, and go au naturel everywhere else.
Think Through Colors and Formulas
Steer clear of overly dark or bright colors, keeping the palette in the nude family with hints of bronze, rose or peach. Sheer formulas are ideal for hot, humid weather. Also avoid shimmery finishes; when these mix with moisture, the sparkle will only magnify the look of sweat and shine.
Go Waterproof
When choosing products like eyeliner and mascara, be sure to go for the waterproof formulas. A kohl eye pencil can either define or add a pop of color to your eyes, allowing you to keep shadow colors to a minimum. After applying the pencil, use a small angled brush to deposit a dark shadow to your line for extra staying power. Finish by quickly applying a few quotes of mascara before the product dries.
Take Note of Cheeks and Lips
An extra-bright blush isn't necessary due to the natural flush you'll receive from the hot weather. Choose a soft peach, coral or brownish-rose hue in a gel or stain formula. This prevents running and the cakey appearance that powders can sometimes produce. Because heat can make lipsticks migrate and smear, be sure to use a neutral lip liner to keep your color in place. Also opt for sheer, matte formulas in natural colors.
Other Essentials
Nothing beats a stash of oil blotters for keeping skin shine-free. Use in the morning when applying makeup, then follow with a lightweight powder that offers just a touch of luminizer to keep skin from looking flat. As the day wears on, use your blotter sheets to get rid of oil and perspiration. Finally, don't forget to add a hint of bronzer in all the places that the sun would naturally hit – cheekbones, nose and chin – for a dash of natural glow.