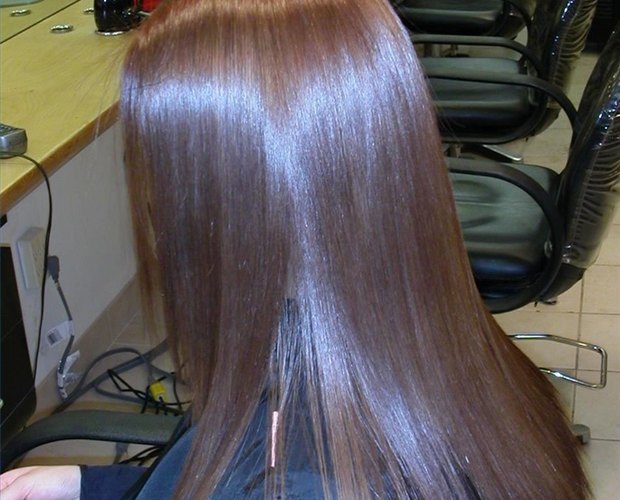 Are you interested in a hot new look? Then consider Japanese hair straightening.
If you have course, or frizzy hair, this chemical technique might be right for you.
While this procedure should only be performed by a licensed professional, here's a basic look at what you can expect when you go to the salon.
Clean hair by washing. Before applying the Japanese hair straightening system, you have to make sure the hair is clean. Wash it thoroughly.
It is best to have the client wash her hair the day before the procedure, so it only needs to be cleaned once at the time of application. Use regular hair washing techniques to clean the hair.
Choose from various Japanese hair straightening products, and apply the relaxer as instructed. There are a few different systems on the market that have reviews out on them, and I've included some helpful information on them here.
The Liscio system is the most talked about of the Japanese thermal hair straightening solutions. The reviews have been good, and most clients like the results. The Yuko system is probably the most expensive of all the systems, and is the most complex to apply. Nonetheless, most of the reviews are positive ones. The Bio Ionics system is relatively unheard of, but is an affordable solution as well.
There's only two steps in the process, which lessens the price significantly. The Chin system is also an affordable option, however the reviews on this system are scarce.
Apply the Japanese hair straightening system to wet hair. Start at the nape of the neck, and begin applying relaxer to the ends of the hair, and working your way up to about ¼" from the scalp.
Do not apply relaxer to scalp. Part in small sections, and comb through the strands with a small tooth comb, careful not to irritate the scalp.
Cover the entire head with long clear plastic, and heat under a dryer. This is an import step in the Japanese hair straightening technique. Make sure the plastic is on loosely. After the hair has been heated according to instructions, wash, condition, and dry the hair.
Flatten the hair with a ceramic hair straightener. Start in small sections from the nape of the neck. Begin ironing the hair from the roots to the tips. Repeat the process a few times, but take care not to burn the hair.
Tip
REMEMBER: When visiting Japanese hair straightening salons, ask to see their client book. This will show before and after pictures of the process.