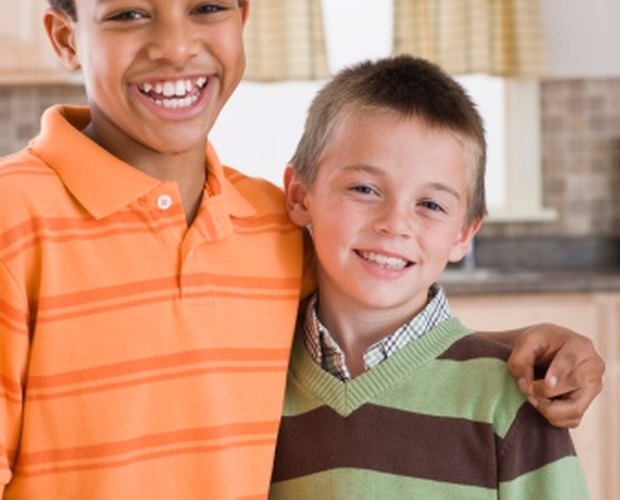 Jupiterimages/Comstock/Getty Images
Preteens are at a time of transition. No longer a child, but not yet a teen, they are learning about themselves and their personal style. Cute haircuts for preteens should be easy to take care of and maintain. The right haircut, for both boys and girls, will work with the preteen's natural hair type, and the amount of time they are willing to put into hair styling.
Short and Spiky
A cute haircut for preteen boys is short and spiky. It is perfect for all hair types, from straight to curly. For this haircut, the hair is sheared short on the sides and back. The top of the hair is longer and layered. To style it, preteen boys just need to use gel or hair wax to make the spikes.
Graduated Bob
A graduated bob is lovely on preteen girls. It is a modern version of the classic bob. The difference is that the graduated bob is shorter in the back and longer in the front. The stylist will cut layers throughout the hair, shorter in back and longer layers in the front. Depending on hair type, the graduated bob is relatively easy to style. If the hair is curly, preteens may need to straighten their hair with a flat iron.
Long Layers
For preteen girls with long hair, layers will add movement and volume. The layers in front should start at just below the chin and go all the way down. This will frame the face. Get long layers cut into the back and sides of the hair. This cute haircut is suitable for both curly and straight locks. Bangs are optional but also work well with the haircut.
Long and Texturized
A trendy preteen boy's haircut is long and texturized. This haircut is ideal for wavy hair. The back of the hair is left long. It goes just past the ears. Add layers throughout the hair. The hairstylist cuts the top and front of the hair so it lays flat and sweeps across the forehead.