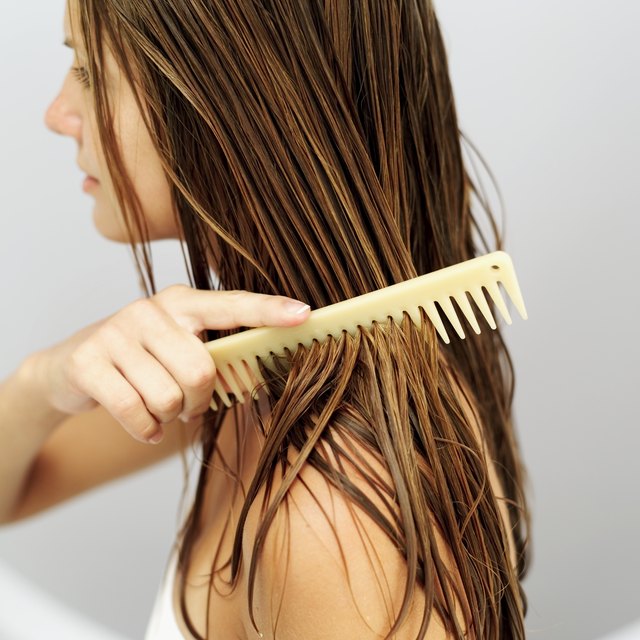 When there's a 9 a.m. meeting on the agenda, a blowout is just not happening. But that doesn't mean having to show up to work looking like a hot mess. Wash-and-wear hair can absolutely look chic. It's just a matter of taking a few minutes to quick-style it with a little product, and letting go of the need to defy your hair's natural qualities. Here are some easy, breezy tips for every hair type.
Long, Straight Hair
If you have long, straight tresses, get a cut with long layers to add movement and body and quicken drying time. Towel dry hair well, then comb or brush it. Work a volumizer into the roots and apply a leave-in conditioner throughout. Divide hair into four to six sections, depending on the thickness of your locks. Loosely twist each section from root to end and let hair air dry like that on the way to work. Before walking into the office, undo the twists and very lightly tousle the hair.
Alternatively, while hair is still damp, apply a shine serum, then tie hair back into a tight, clean ponytail at the back of the head. Either pull your hair up and back, or part it in the middle or to one side—your choice, but just make sure it's super neat and sleek. Twist the ponytail from the top to the bottom, then around itself to make a bun. Secure the bun with a bobby pin. Right before going into work, undo the bun, untwist the ponytail, and lightly tousle it for a little bounce.
Chin to Shoulder Length Straight Hair
A bob or long bob is pretty low-maintenance already. After brushing damp hair, apply a heat-protective serum and do a quick blow-dry for a couple of minutes as you shape your hair the way you want, without drying it completely, to save time. For fine hair, spray some volumizer at the roots and scrunch. Finish with shine serum and let hair air dry the rest of the way.
Wavy Hair
Wash-and-wear and wavy hair are a match made in heaven. Comb damp hair to detangle. All you need are a few spritzes of salt spray to play up the texture and waviness. Scrunch your hair all over. It'll air dry like a dream and probably look like you spent the morning in the surf, which is always a good look.
You could also do a quick single braid from the nape of your neck or a French braid while hair is still damp. Wavy hair naturally has enough texture and volume to hold a braid nicely. Bonus: when you undo it, your waves will be more pronounced and bouncier than ever, so it's like getting two styles in one.
Curly Hair
Curly hair can come in many different textures and types—it can't really be generalized. However, many curly-haired gals experience similar issues of dryness, frizz and tangles. To solve these problems, first wring out wet hair with a cotton T-shirt to avoid exacerbating frizz with the coarseness of a towel. Use a wide-tooth comb to detangle. Generously apply an oil or anti-frizz serum from root to tip. Scrunch in some mousse, focusing on the ends. Then, leave your locks alone and let them air dry without interference; resist the urge to run your fingers through, lest you want to separate the glorious ringlets into individual frizzy strands.
Okay, bring on those early meetings. But first, coffee.