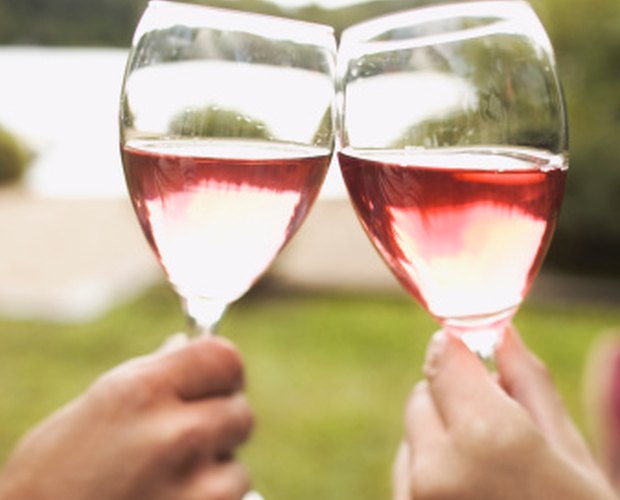 Jupiterimages/Brand X Pictures/Getty Images
Rose wine is a sweet, off-dry wine that is pink in color and is produced from red grape varietals. It is popular in countries such as Spain and Italy. Rose wine is most suitable for warmer weather conditions and is very versatile when it comes to food pairings.
Meats
When considering what kinds of meats you want to pair with a glass of rose wine, search your refrigerator for meats that are rich in spices and of Italian origin, such as pancetta and prosciutto. You can also pair rose wine with cooked and seasoned Italian sausage or thin slices of baked ham on top of a toasted baguette. For leaner meats to pair with your wine, consider slices of chicken and seafood items such as crab, mahi mahi, grilled tuna or smoked trout.
Cheeses
Cheese and wine are two popular items that are commonly paired together as a special treat. Rose wine can be paired with a wide variety of cheeses and what you decide to eat with your wine depends on your personal preference. Rose wine goes well with cream-style cheeses such as fromage blanc and cottage cheese. Some hard-style cheeses that fare well with rose wine are Asiago and Parmesan, which can be baked onto slices of bread or eaten directly with the wine. Semi-hard and soft cheeses, including fontina, Swiss, brie and Camembert, are popular choices for rose wine pairings and can be served with biscuits, summer sausage or bread slices.
Fruits and Vegetables
For lighter fare, try pairing your rose wine with fresh fruits and vegetables. You can make a salad using leafy greens, avocados, fresh tomatoes, carrots and tofu to enjoy alongside your wine. You can also make stuffed, baked bell peppers, baked sweet potatoes and red cabbage. Some fruits that complement the sweetness of red wine include apples, fresh berries and peaches. Enjoy these fruits as a side dish with your wine, or as a healthful dessert.
Foreign Cuisine
There are several kinds of foreign cuisine that pair well with a glass of rose wine. Some Asian-style dishes that you can enjoy with your wine include Chinese barbecued pork, chow fun and egg rolls. Mexican foods such as chips and salsa, chicken enchiladas and chicken tamales also pair well with rose wine. Indian cuisine that includes samosas, pakoras and tandoori chicken or fish is also an acceptable companion to rose wine.