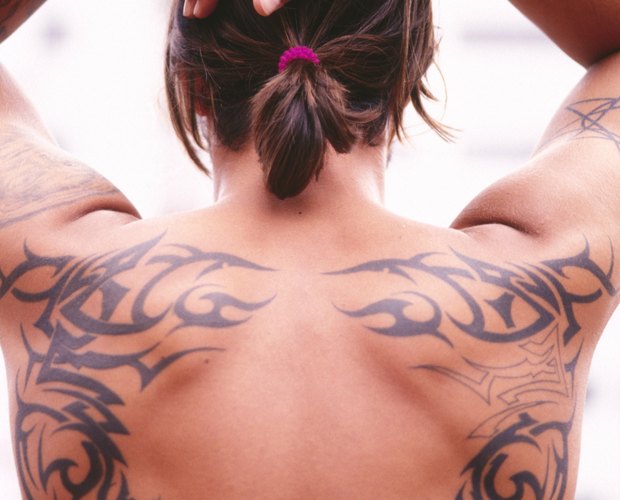 Pixland/Pixland/Getty Images
Ponytails are quick, tidy and useful for getting long hair out of the way. Men with long hair are commonplace today, and they find ponytail styles as easy and useful as women have done for generations. Over the years "mantails" have met with differing receptions, but modern attitudes mean men can acceptably wear a wider variety of hairstyles.
Care of Long Hair
Men's long hair needs care and attention just like women's. Hair with split ends and dry hair worn in a ponytail will look frizzy and untidy. Greasy hair tied back looks oily, while making the hair stick together. This can also make ponytails look too thin. Wash and condition long hair at least twice a week. Get it trimmed every six weeks. If your hair is abnormally dry or greasy, use hot oil treatments and specialty conditioners as needed. Avoid wearing tight ponytails too frequently as it can cause hair loss. Don't use rubber bands to tie ponytails as they can damage hair.
Types of Ponytails
Many ponytail hairstyles are worn by men today. Men often wear ponytails low down on the back of the head, but increasingly wear them higher up. Ponytails are styled from any length hair that fits into a hair tie at the back of the head. Even if some bangs won't fit and hang free, the rest of the hair can be tied back in a short ponytail. Braided ponytails secured at the bottom with a second tie give a stylish and neat Native American look. Partial ponytails are styled from hair brushed back from the top of the head and tied in a thin ponytail. The thin ponytail hangs down at the back over well-brushed, same-length hair. Men with long dreadlocks also sometimes tie them back in a big, thick ponytail.
Styling the Ponytail
Brush hair back toward the place where you want the ponytail and gather it in your free hand. Hold the ponytail in place with that hand while fixing it with a hair tie using the other. For dreadlocked hair and messier ponytail styles, simply push the hair back into a bunch with your hands and secure with a tie at the base.
Hair Ties
Plain hair ties are suitable for men and women. Buy specially designed, stretchy bands to tie ponytails with. Metal hair ties are also available. These are easily bendable metal rings with gaps. The gaps close when the ties are squeezed tight around the base of the ponytail. Usually these types of hair ties are quite wide and have patterns on the outside. Celtic, geometric or swirly patterns are suitable for men.
Extra Tips
High, tightly tied ponytails can pull facial skin back to give a temporary facelift. However, ponytails don't always suit older men, who may feel they need this. Avoid ponytail styles if you are balding on top. Very short styles are best for men with severe hair loss.