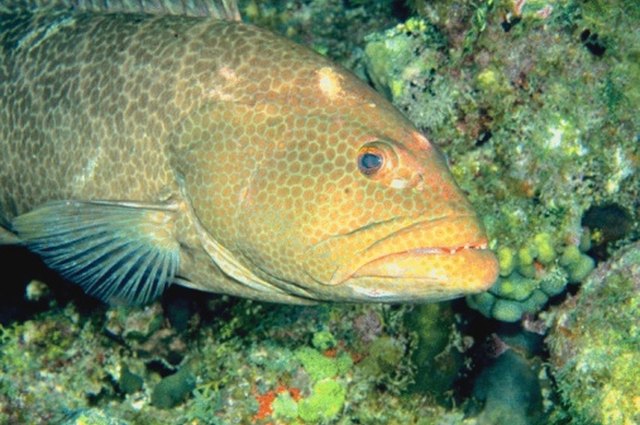 Jupiterimages/Photos.com/Getty Images
Grouper is a fish commonly found in warmer climates and tropical areas. At the market, grouper is sometimes hard to find and can demand a higher price than many other fish. While not the most appealing-looking fish in the sea, grouper is an excellent choice for people who prefer a mild-tasting fish. It easily picks up the flavors of seasonings with which it is cooked.
Peppers, Powders and Salts
Cracked peppercorns are commonly used in grouper recipes. Cracked black pepper, cracked white pepper or a blend of the two, adds to the flavors in many recipes. Garlic and onion powders cook into the fillets and give distinct flavor to grouper that cannot be achieved by cooking with fresh onions or garlic. Many recipes call for salt, but do not specify which salt to use. Sea salt, table salt or kosher salt can be used in grouper recipes. File (pronounced fee-lay) powder is a common ingredient in authentic Louisiana gumbo recipes. File powder is obtained by grinding sassafras leaves.
Herbs
Herbs can be fresh or dried. Oregano and basil are two common herbs that grouper recipes employ. Recipes using these herbs call for either dried or fresh varieties. Tarragon is another herb that cooks well with grouper. Tarragon is often found in dried form. Parsley and cilantro leaves provide a fresh taste to grouper. Bay leaves and chives are also fresh herbs for which many grouper recipes call.
Spices
Available in a variety of flavors, paprika pairs well with grouper. Hungarian paprika is the most common paprika used, but Spanish, Portuguese and California paprika are all acceptable substitutes. Cayenne pepper gives punch to otherwise mild-tasting grouper. Turmeric, a common ingredient in curries and found in many seasoning blends, is another spice used in grouper recipes. The powerful spice saffron, even in very small doses, gives a lot of flavor to grouper. Fennel seeds and thyme are also found in grouper recipes.
Seasonings
Various seasonings combine well with grouper. Adobo seasoning creates a taste of Mexico in grouper recipes. In lieu of adobo seasoning, substitute garlic powder, dried oregano, salt, black pepper and turmeric. Cajun and creole seasonings are commonly found in New Orleans-based grouper recipes. There are a number of different blends of Cajun and Creole seasonings. Chef Emeril Lagasse uses his own Creole seasoning in many of his recipes. His Creole seasoning, named Essence, consists of paprika, salt, garlic powder, black pepper, onion powder, cayenne pepper, dried leaf oregano and dried thyme. The recipe is available online.