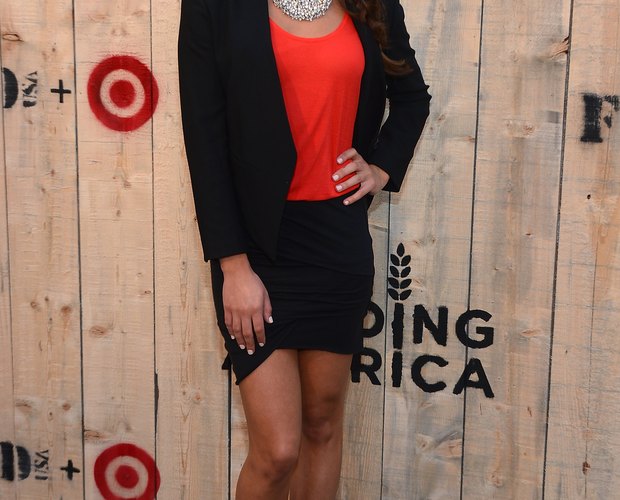 Larry Busacca/Getty Images Entertainment/Getty Images
Scoop necklines are conservative but chic. If you have a stylish scoop-neck top or dress and aren't sure how to accessorize it, no worries. Some necklaces work better with your neckline than others, but with scoop necklines you have plenty of options, all of which are equally chic.
Fill in the Space
A chunky necklace that fills in your open neckline works perfectly. It mirrors the shape of your scoop, which complements it well. Single or multi-strand necklaces are equally good options, so pick your favorite. Keep in mind that if you're wearing a chunky, statement necklace, you should keep the rest of your jewelry minimal so as not to overwhelm your look. A simple stud earring and a basic bracelet are all you need.
Layered Beads
Layered beads and pearls fall in the same line as your scoop neck. Try a necklace that has different length layers; one length may fall above your neckline while another falls below. This is not only OK, it can also actually lend an interesting vibe. If you don't have a long necklace you can loop around, buy a few of different lengths and layer them yourself. Your necklace doesn't have to be pearls or beads; chain-link styles will also do the trick.
Delicates
Just because a scoop neck leaves you a lot of room for jewelry, your necklace doesn't have to be super-sized. If you prefer a simple strand, try a delicate, beaded necklace that just falls a little below the neck. Small necklaces complement more formal dresses and add feminine detail to a basic T-shirt and jeans.
Longer Pendants
A longer pendant looks totally stylish and proportional with a scoop neck. A tiny pendant keeps it subtle, while a larger pendant really makes a statement. If you choose to go larger, follow the same rule as with a statement necklace and don't overwhelm the look with a bunch of over-the-top jewelry. Keep everything else simple, and you're good to go.