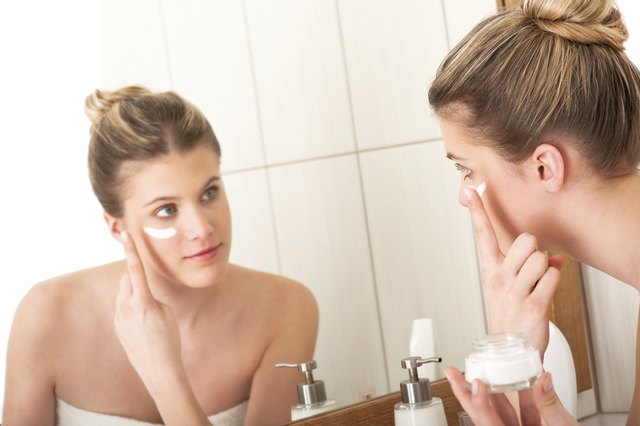 jean-marie guyon/iStock/Getty Images
Supermarkets and fine department stores alike are stocked with all kinds of lotions for every part of the body. Some products claim to reduce the signs of aging, while others simply promise relief for dry skin. To avoid breakouts and oiliness, avoid using heavy body lotions on your face and seek out a specific product for the eye area to prevent irritation.
Moisturizing and Protecting
Lotions preserve the skin's moisture by helping it retain water, while acting as a barrier against harmful irritants. By locking in water, lotion can prevent and treat dry skin while addressing conditions that accompany it, like flaking, itching and redness. At the same time, emollients in lotion act as a shield, protecting skin from factors like pollution, which may also exacerbate aging.
Specific Purposes
Lotions containing certain ingredients may help the skin in specific ways. If signs of aging are a concern, lotion with retinoids may reduce fine lines and even out skin tone. Other lotions may be packed with acne-fighting ingredients, like salicylic acid, or contain oils to soothe cuticles. However, if you're expecting dramatic results from your lotion, do some research to ensure the ingredients are effective at treating your specific skin needs.