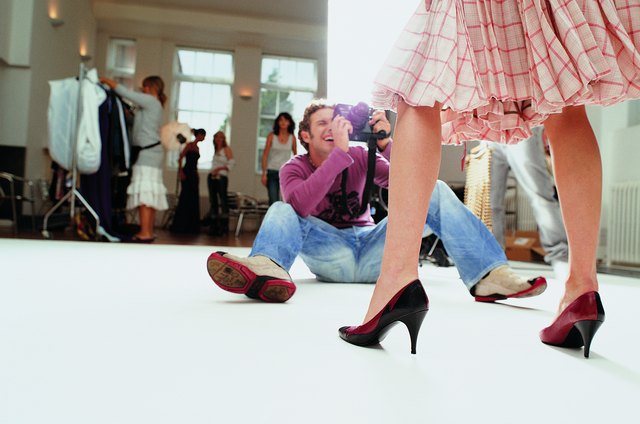 Digital Vision./Digital Vision/Getty Images
Fashion shows are fun, whether you're part of the show itself or in the audience. But that fun doesn't just happen magically. Even the most modest fashion show is the product of a lot of time and energy -- and, unless all your staff are volunteers and all your goods and services are donated, there will be bills to pay too. On the other side of the ledger, fashion shows are a great way to learn about organization, planning, working with a team and a host of other skills. And, yes, when all your work blossoms into a stirring success, fashion shows are a lot of fun.
Venue and Date
Decide when and where your fashion show will be held and how long it will last. If you need to book a venue, do so far enough in advance to make sure it's available. Also make sure that your venue has space for your audience, catwalk, your models, the outfits and any entertainment or refreshments you may want.
The Catwalk
Determine the size and shape of your catwalk. Mark out the shape using masking tape. Use drama or stage blocks for easier construction.
Your Team
Build a team so that all facets of your fashion show are covered. At the very least you will need a show producer and someone to assist the models backstage. You may also need one or more of the following: ticket seller, clothing manufacturer, stage manager, wardrobe assistant, hairstylist, makeup artist, announcer, food server and publicist. Use an online social networking site or similar page to keep your team in touch with each other, and so everyone knows their tasks and schedule.
The Show
Decide if your show will have a theme and, if so, what it will be. A themed show makes it easier for you to manage the interior design of your venue, its publicity and even the outfits your models will wear. Work out the order and timing of every aspect of your fashion show, refining it through rehearsals. Use a clown, magician, singer, speaker or a master of ceremonies between models to keep your audience entertained.
The Clothes
Choose clothes that will most appeal to your audience, given their gender, age, income and other demographic factors. If your fashion show has a theme, your clothes should in some way reflect that. Approach local department stores, boutiques or fashion designers to use their clothes in the show in exchange for publicity or advertising at your fashion show.
Tips
Ask the owner of your venue if you need insurance. Recruit local personalities to be models or judges or to publicize your fashion show. Be prepared to spend a considerable portion of your preparation time soliciting donations of goods and services; consider offering program advertising in exchange.