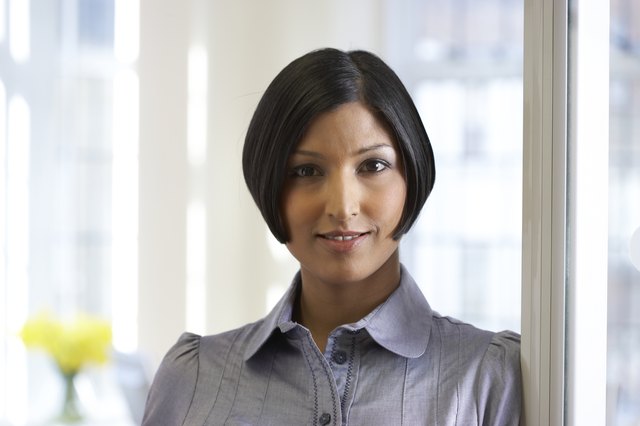 Polka Dot RF/Polka Dot/Getty Images
Bob haircuts are everywhere. They have been a staple in hairstyles for at least a hundred years, according to Cosmopolitan magazine. They have evolved into a variety of styles such as the Inverted bob, the a-line bob, the layered bob, the Chinese bob, the pageboy bob and the curly bob. Women are drawn to this haircut because it fits perfectly into their lifestyle. It is easy to manage, requires minimum effort in styling and provides a strong yet delicate sophisticated look.
Angles
Bob haircuts have different angles where the hair is sheared. Every type of bob cut has its own signature twist. For instance, an a-line bob is styled in an angle that frames the face. A person's angular features determine where the hair will fall into place. However, an inverted bob forms an angle near the chin area only. In addition, a layered bob contains many angles, which provides a multi-dimensional effect. The angle of each haircut gives the wearer an edgy and sleek look depending on how dramatic it is.
Length
It is commonly perceived that bob haircuts are short and above the shoulders in length. However, with the creation of the different variations, these hairstyles can be modified to medium and longer hair lengths. An inverted bob haircut is tapered around the chin line while a Chinese bob reaches up to the neckline. On the other hand, an a-line bob is usually at the level below the ears. The length of the bob influences the amount of its versatility -- whether it can be worn as is, or styled in other ways such as with hair clips or headbands.
Layers
A newer type of bob haircut is one that contains many layers. It contains multiple levels of hair such that each strand is cut a few centimeters longer or shorter compared to the other pieces of hair. This style of bob is the opposite of the traditional bob. The standard bob follows a specific and uniform length for all the strands. The layers and shagginess of the layered bob gives volume and movement to the hair.
Texture
There is a corresponding type of bob haircut for a certain texture of hair. One example of this type is the curly bob. Instead of straight locks, this bob works well with wavy or crimped hair. This variety is a popular take on the customary bob. It adds volume, youthfulness and zest to the ordinary bob. The curly bob is is best for those who have wavy hair, although people with straight hair can still wear it by using curlers or heat-styling tools. This bob is best for that whimsical and soft look.
References