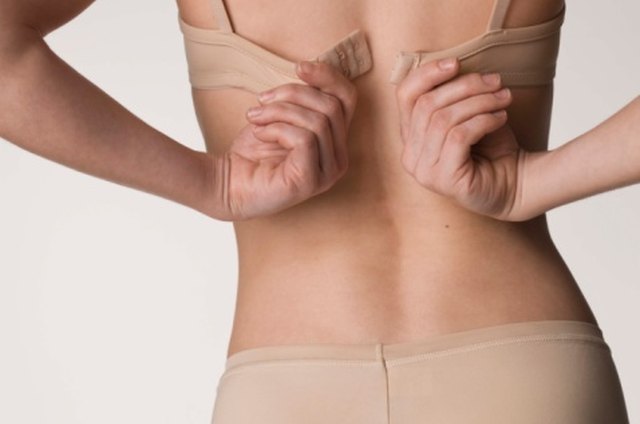 Jupiterimages/Polka Dot/Getty Images
A good minimizer bra is the secret weapon in a large-breasted woman's wardrobe. The bra is a good nonsurgical option that will work for every woman to temporarily reduce breast appearance. Minimizing bras compress and rearrange breast tissue for a better fit under button-up shirts, jackets and many other garments. They usually include a claim of projection reduction, such as one to two inches. A good minimizing bra will have many of the same features as other bras for large cup sizes. Many minimize bras now feature concealing petals. These reinforced areas help prevent show-through.
Bali Concealer Minimizer
Possibly the most widely available, economical and top-rated brand is Bali. Bali makes the Concealer Minimizer Bra with concealing petals in the center of the cup. These Smoothing Petals prevent show-through but are invisible on the outside of the bra. The bra minimizes up to 1.5 inches. It lays smooth under clothes and is tag-less. It's available in many sizes, ranging from 34C to 42DDD. It can be found online and in stores for $25 to $35 as of June 2011.
Olga Lace Minimizer
Although Bali trademarked Concealer Petals, there are also other bras that market similar technology. The key is to look for those with traits such as "no show-through" or "modesty." The Olga Lace Minimizer Underwire bra, online for around $25, has a lace design for a feminine touch. The molded underwire cups are lined with mesh "for modesty." Most minimize bras are completely without padding to eliminate bulk, but those that are still lined offer the most concealment to prevent show-through. Reviewers like the shape this bra gives breasts.
Lilyette Full Support All Day Shaping Minimizer
Boasting support without bulk is Lilyette's All Day Shaper. The molded cups are single-ply, lightweight and supportive fabric. It is marketed as a comfortable T-shirt bra and is mostly seamless for a smooth look under clothing. Seamless cups are lined with lightweight fabric for modesty. The underwire is cushioned to eliminate poking, and the shoulder straps are nonstretching. Overall, reviewers like this bra for the seamless cups and sides. It is also in the $25 range.
Dominique Seamless Underwire Minimizer
This bra, selling for $42 on average, was one of the best reviewed minimizing bras. It has center front boning for a structured fit. The hardware is plastic, but there were few complaints about durability. Reviewers like this bra for shaping without the "squish." It is a full-coverage bra with seamless cups. These cups are described by the manufacturer as "soft, smooth, seamless, full-coverage cups [that] create the perfectly rounded, no-show silhouette for wear with shear clothing."