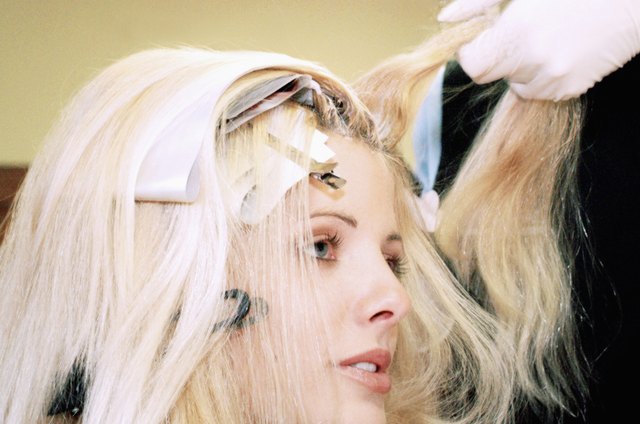 Medioimages/Photodisc/Valueline/Getty Images
Redken Shades is a professional demi-permanent hair color used in salons to glaze and refresh all types of hair, natural or colored. Although most people that use Redken Shades EQ are satisfied with the results, you may find a few bothresome problems. You can avoid some of these problems by going to a salon that has a stylist knowledgeable about the product.
Color Maintenance
Because Redken EQ haircolor is demi-permanent, the color and shine that you get is temporary. It is longer lasting than a semi-permanent color, but not as long-lasting as a permanent color. Re-apply the hair color every 3 to 6 weeks to retain the same look; be prepared for the extra expense that this will bring when compared to the cost of a permanent hair color.
Cannot Lighten Hair
Demi-permanent hair color will not lift any color already in your hair; it will only add to it. Because of this, don't use Redken Shades to color your hair a lighter shade.
Not True To Color
The Redken Shades EQ colors end up darker than what is expected, so use a color that is a level or two lighter than what you want the end result to be. You can also mix some of the clear formula to your color of choice to dilute and lighten it up some. If you are covering gray hair, you can expect those hairs to be slightly lighter than the rest of your hair resulting in a highlighted look.
Staining Potential
Make sure that your hair is completely dry before going to sleep or laying your head on anything important, such as a couch. While your head is wet, the color can stain anything it touches. Blow-drying your hair can solve this problem when you need your hair dried quickly. If you are using just the Redken Shades clear glaze, you will not experience this. In fact, the clear glaze can help to seal the color in if done afterwards.