Natural and organic scrubs, washes, masks and peels allow skin to be exfoliated, hydrated and generally well cared for at home. Spa equipment used for facials, however, can help level up home spa days. While investing in quality equipment can allow treatments to be replicated at home, understanding how estheticians safely and effectively give facials is important.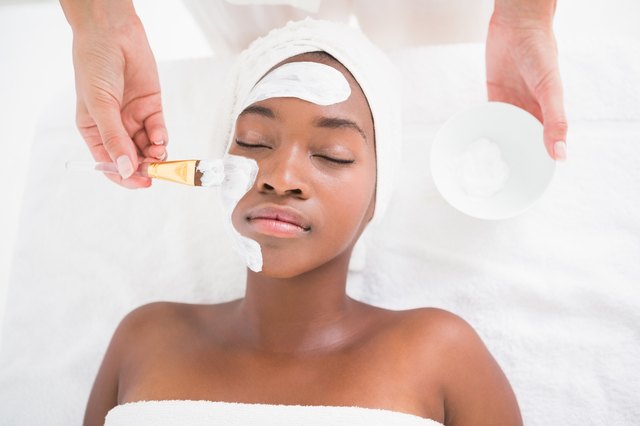 Cleansing Without Tearing
Often, skin is torn when scrubbed too hard with an abrasive washcloth or a bristled electronic exfoliation brush. When skin is marred with microabrasions, its appearance loses glow and radiance. Spas use a vibrating silicon facial cleanser to gently remove dirt and makeup. Next, estheticians move to one of the most basic, yet important machines for facial cleansing: a steamer. Steam opens pores, which makes both acne treatment and blackhead extraction easier and less invasive. Opening pores also allows the active ingredients in products to more effectively soak into the skin. A quality backlit mirror is crucial for illuminating, magnifying and clearly seeing the delicate facial epidermis.
Tightening and Toning Skin
Lasers are another commonplace machine used during facials at spas. Used to tighten and firm the skin, lasers boost collagen production. Collagen is one of the most important structural proteins within the epidermis and other tissues because it keeps the skin smooth. As the years pass, collagen begins to break down, which results in fine lines and wrinkles.
To supplement the reliance on collagen for tighter, firmer skin, microcurrent therapy is often used as well. Using electrical current, the waves stimulate facial muscles, causing them to contract. As the muscles contract, the top layer of skin lifts and becomes more toned. The device functions in a way to ensure the electrical current moves in one direction to ensure safety and effectiveness.
Filling Wrinkles, Stimulating Growth
Aside from seeking pampering, cleaning and expert attention to facial skin, a common reason for scheduling a facial is to rejuvenate and correct "beauty flaws." Two treatments often used by beauty professionals for celebrities are LED light and oxygen therapy. LED light treatments use both red and infrared light to increase blood flow to the face for instantaneously glowing skin. This equipment also encourages collagen production to help smooth wrinkles and stimulate production of new cells. Oxygen treatments push concentrated oxygen molecules into the external layer of the epidermis, much like airbrushing. The technique is said to provide smoother, plumper skin, which naturally reduces fine lines and wrinkles. In addition to promoting collagen production, the molecules also detoxify the skin and increase cell regeneration.
If you're looking to buy any of the machines or equipment used in spas for facials, read reviews and talk with a dermatologist first. Websites like Amazon have many options, but specialized online retailers like Massage Warehouse offer industrial-grade equipment.