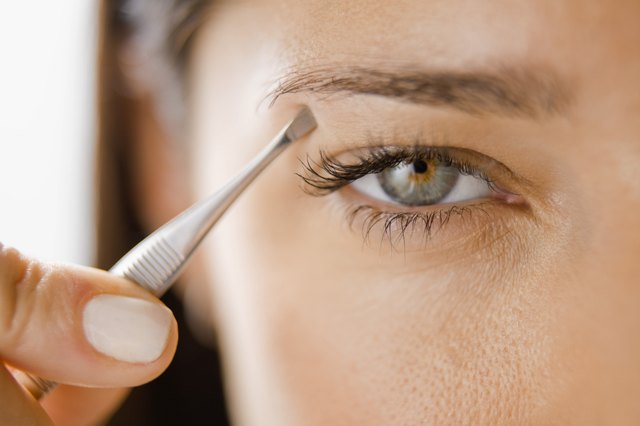 Creatas Images/Creatas/Getty Images
Eyebrows are one of the most defining features of your face. Giving a perfect shape to your eyebrows can help open up your face, and make your eyes look bigger. Thick and heavy eyebrows, on the other hand, may overpower your face. Several techniques such as waxing, threading and tweezing are used to trim the eyebrows. Lining your eyebrows with a concealer and a brow pencil can also help provide structure to your eyebrows and face.
Concealer
Concealers, or color correctors, are popular make-up products that are used to hide acne, blemishes and other imperfections on your skin. They are available in a variety of shades from light to dark that blend well with your skin tone. Concealers are generally easy to use, and can be applied with your ring finger, brush or a wedge sponge.
Benefits
Concealer applied around your eyebrows can help blend the imperfections in your skin. They add extra definition to your brow make up and also make your eyebrows look cleaner by hiding any hair that is out of the place. It will also help cover any marks that may result from shaping the eyebrows.
Technique
Begin by lining your brows with a brow pencil in a shade that matches your hair and skin tone. Start at the inner edge of the brow and follow the shape of the brow. Use a flat eyeliner brush to apply the concealer along the lower edge of the eyebrow. Create a highlight line underneath the eyebrows with the concealer, and then use eye shadow to cover up the concealer for a more natural finish.
Tips
Always line your eyebrows before putting your eye make up on. This will help you focus on the eyebrows without disturbing the eye make up. Use a brow brush to comb your eyebrows before using the brow pencil. Use a light shade of concealer and an eye shadow that blends well with your skin tone for a more natural look. Do not apply the concealer on top of the eyebrows.