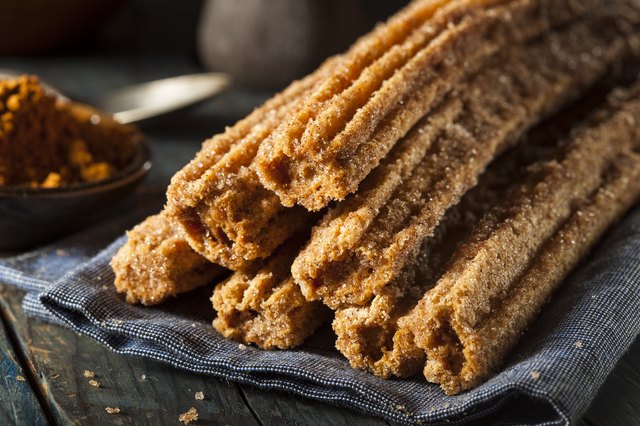 bhofack2/iStock/GettyImages
Double twisted churros are like long doughnuts that are rolled in cinnamon sugar. They are wonderful when freshly made and still crispy and warm. Leftover churros should be stored in the refrigerator. Reheating double twist churros is easy, all you need is your oven or a microwave. The oven method is the best way to reheat churros; however, a microwave is great if time is of the essence.
Oven Method
Preheat the oven to 300 degrees Fahrenheit.
Place the churros on a baking sheet. Cover the baking sheet with aluminum foil. This will prevent the churros from becoming too crisp.
Place the baking sheet in the oven on the middle rack. Bake for approximately 5 to10 minutes or until warm. Do not over cook the churros or they will dry out or become hard.
Microwave Method
Wrap the churros with paper towels. The paper towels help lock the moisture in the churros and prevent them from getting hard.
Place the paper towel wrapped churros on a microwave safe pate.
Set the microwave to reheat and cook for one to two minutes for two churros and two to three minutes for four churros. Remove plate from the microwave and unwrap the churros immediately to prevent them from sticking to the paper towels. Serve and enjoy.