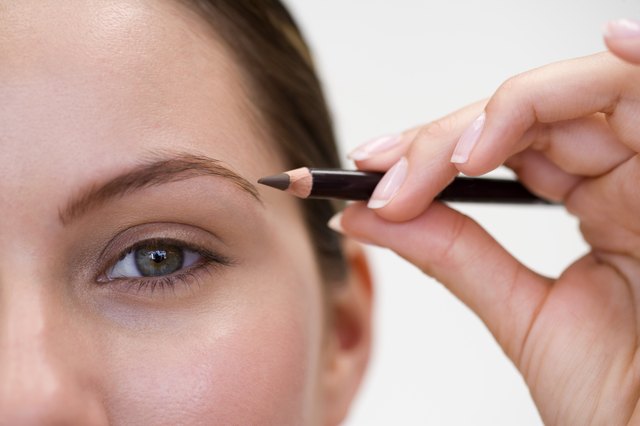 Pixland/Pixland/Getty Images
Eyebrow pencils define and highlight the eyebrow while eye liners define and highlight the eye lid. Many women have both sitting in their makeup bags, separate and never crossed over. Yet occasionally you may find you are out of eye liner or simply forgot it. You also may want to slim down your makeup bag by using one product to do two things. Fortunately, an eyebrow pencil can be used the same way as a pencil eye liner.
Sharpen your eyebrow pencil. Having a sharp pencil will make putting your eyebrow pencil onto your eye lid much easier.
Gently pull the skin next to your eyelid toward the back of your head. This will keep the eyelid taught in order to draw a better line with your eyebrow pencil.
Starting approximately halfway across your eye lid, draw a line toward the outside of your eye with the eyebrow pencil at the bottom of your eyelid, just above your eyelashes. Stop slightly past your eye lid. Try to keep the line as straight as possible, following the contour of your eyelid.
Blend the line slightly, using your finger. This will keep the eyebrow pencil looking more natural onto your eyelid.
Warning
Be careful not to poke your eye while applying eyebrow pencil as an eye liner.