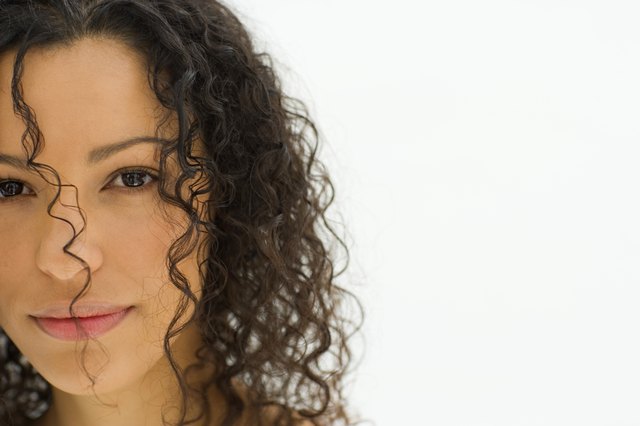 Pixland/Pixland/Getty Images
The Berber people of Morocco have used argan oil for centuries in their diet and for cosmetic purposes. Derived from the fruit of the argan tree, the oil has become an ingredient used in for hair care around the world. There are many products incorporating the oil into shampoos, conditioners and serums. Argan oil helps protect you hair from drying out, against frizz and leaves a soft feeling to your hair. The oil is suitable for all hair types.
Wash your hair with a shampoo suited to your hair type. It is important to start your hair routine with a good foundation and this is done in the washing process. Direct the shampoo more towards your roots and scalp, and minimally on the ends.
Condition your hair. Use a conditioner that complements your shampoo. Consider conditioning with a mask if your hair is curly, course or thick about once a week to help reduce frizz and maintain manageability.
Rinse your hair thoroughly and towel-dry. Use the towel to soak up the excess water by squeezing your hair. Avoid rubbing your hair with the towel.
Put a small amount of argan oil onto your palm and rub between your hands. Avoid using too much or the hair will look greasy. If your hair is longer, add a little more oil.
Work the argan oil through your hair beginning with the ends and working your way up to the roots.
Blow-dry your hair if desired. Use a diffuser for curly or wavy hair to enhance your natural look.
Tip
When using straight argan oil not diffused in a hair product, follow the same method using only a few drops of the oil.