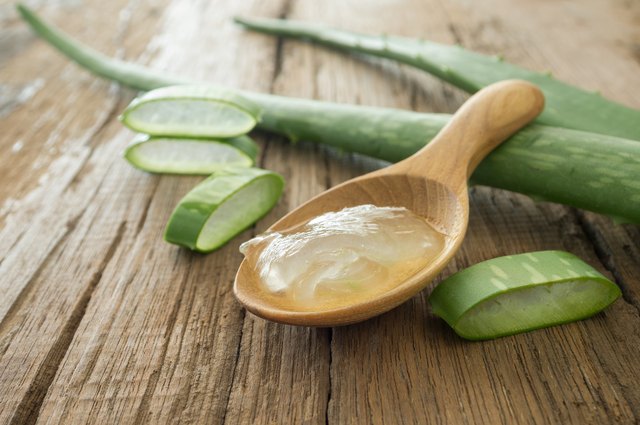 Eczema is a skin rash characterized by dry, itchy skin that may be red, flaky and blistering, depending on the severity. One of the most effective natural remedies for preventing eczema flare-ups is good old-fashioned aloe vera. Unlike steroid creams, a common medical treatment for eczema, aloe vera creams and gels can be applied as needed without added complications. (Most steroid creams can only be used twice daily.)
Before you start an aloe vera regimen, though, see a dermatologist to diagnose your eczema. It's important to rule out other skin conditions like a fungal infection so you can find the right treatment.
Aloe Vera Soap
Switch to a natural, moisturizing soap or body wash with aloe vera as an ingredient. Conventional soaps that have a lot of chemicals and synthetic ingredients can dry out skin and exacerbate eczema.
Aloe Vera Gel
Apply aloe vera gel to soothe irritation. Aloe vera gel can either be harvested directly from the plant or store bought.
Aloe Propolis
Propolis is a waxy substance with natural antibiotic properties. Anecdotal evidence shows that when combined with aloe vera and other ingredients in a moisturizer, propolis may improve eczema symptoms.
Aloe Vera Shampoo
Use aloe vera shampoo if you have eczema on your scalp or around your hairline. Hairsprays and other hair products can trigger and exacerbate eczema in these areas. Regular use of aloe vera shampoo can clear and prevent outbreaks.
Tip
Keep using aloe to treat eczema, even after the affected area appears healed, to prevent the rash from returning.
Buy aloe vera seeds at your local garden store or online to grow your own supply of aloe vera plants. They typically have a germination rate of around 3 to 4 months.
Use aloe vera gel to provide comfort to babies with eczema. This natural remedy is safe enough to treat even the most delicate skin.
Warning
Avoid scratching affected areas, as scratching can cause the skin to crack and blister and make eczema substantially worse and more uncomfortable.
Avoid using washcloths, sponges and loofahs in the shower or bath, as they are abrasive and can worsen eczema.
If you're allergic to garlic or onions, you may be allergic to aloe vera as well. Patch test your skin before applying liberal amounts of aloe.
Avoid aloe propolis cream if you have a bee allergy.