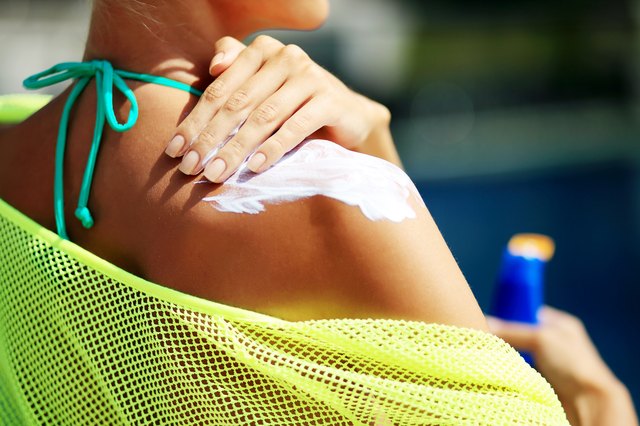 A tingler is a special type of tanning lotion that functions by increasing the flow of blood to the skin with the ingredient benzyl or methyl nicotinate. This results in a tingling sensation wherever it is applied, which is the reason behind its name. The increased blood flow to the skin accelerates your tan. Before you use a tingler, you need to understand what it will do and the best ways to use it.
Get a base tan before you use a tingler. Because it accelerates tanning, its use can lead to a burn if you don't already have sun exposure.
Check the number of the tingler before you purchase it. Tinglers with lower numbers, such as T10, are less powerful than tinglers with higher numbers, such as T30. If you've never used a tingler before, start with the lower number. Not only do tinglers with higher numbers accelerate tanning more quickly, they also create a stronger tingling sensation on the skin.
Test out the tingle on a small patch of skin that's exposed to the sunlight before you apply it on your entire body. Only if you have no adverse reaction and only if you're comfortable with the tingling sensation should you use it on the rest of your body.
Apply the tingler to all parts of your body you're tanning except your face. If you're a woman who is tanning topless, you may want to avoid your breasts as well, if they are sensitive. Apply the tingler evenly to avoid a splotchy tan.
Start your tanning session immediately after you apply the tingler, but realize that the accelerating action of the tingler means that you cannot lay out as long as usual. For your first tanning session, you may want to cut your regular session time in half.
Expect your skin to look redder than usual after your tanning session, and don't be worried if you notice white patches. These effects are due to your body's immediate reaction to the tingler, and will fade into a regular tan as the tingler wears off.
Smooth mild lotion over your skin to help minimize the tingling sensation, and to hydrate skin, which can become dry with the use of tinglers.
Tips
Use a tingler every few sessions rather than every session. Overuse can lead to dry and peeling skin.
Resources