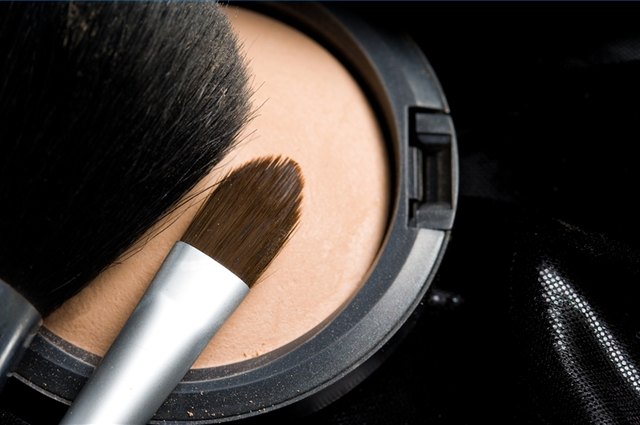 How to Use a Concealer Brush. Unless you were born with perfect skin or you've found some sort of fountain of youth, you've probably got some blemishes that could use a little help. Finding the right concealer and knowing how to use it can make all the difference. When applied properly, concealer is like a magic eraser, hiding our little flaws from the world.
Wash you face and apply your daily moisturizer. Makeup goes on more smoothly and lasts longer when your face is properly hydrated. If you tend to break out, make sure to avoid harsh astringents and oil-based moisturizers.
Use a foundation brush to apply your makeup. Use short upward strokes to work from the nose to the outer cheeks. Be sure to work makeup in thoroughly and blend the hairline and neck areas.
Look at your face in natural light. Notice dark circles under the eyes, acne breakouts, scars and discoloration. You'll be targeting these areas with your concealer brush.
Select a concealer that's one shade lighter than your natural skin tone. Use a disposable brush or cotton swab to test a small area under the eye for a color match. Ask for help at the cosmetics counter if you're uncertain.
Use a concealer brush with synthetic bristles to apply three dots of concealer under the eyes. Synthetic brushes are ideal for blending liquid and cream makeup and the bristles don't absorb as much product as brushes made from natural hair.
Dab at the concealer until it's completely blended. Use a fine-tipped brush to get right under the lash line. Dab at the inner corner of the eye next to the nose. Lighten up this area to make deep-set eyes appear more balanced.
Use a concealer with green undertones to neutralize redness due to acne or rosacea. Place a small amount of concealer onto the area you need to cover and then dab at it until it's completely blended.
Dab a few spots of concealer around the nose near the upper lip. This area is often overlooked when applying foundation, and many women experience redness around the creases of the nose. Hold the brush at a slight angle for better blending.
Get a big brush and apply a powder foundation to set your makeup. A dusting of powder is just what you need to create a natural-looking finish. If you've got oily skin, carry a pressed powder compact with you and give your face a touch-up after lunch.
Warning
Use a small amount of concealer, or it may sit on top of your skin or create unwanted creases.