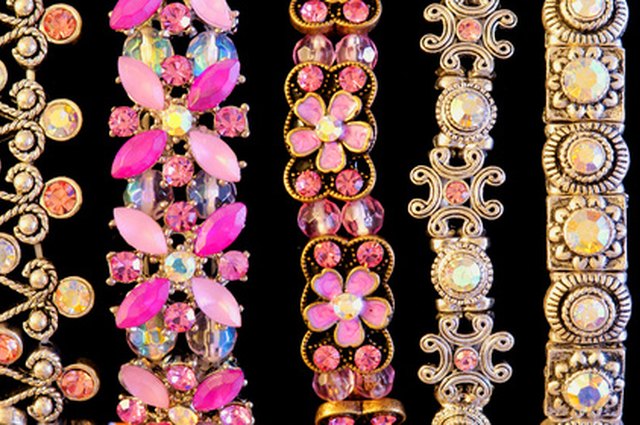 A rhinestone is a crystal or natural-glass stone often found in jewelry. Due to the stone's beauty and demand for it, fakes have been made to look like the real thing. The problem with fakes that look real is that it becomes difficult to tell which stones are real and which are man-made imitations of the real stones. The other problem is that the term rhinestone has been used for so many different stones that it is now hard to part the real stones from the fake stones.
Put the stone in the light. Since real rhinestones are a type of crystal or natural glass, originating from the Rhine River, they reflect light better than the fake acrylic or plastic stones. When looked at in the light, fake rhinestones do not reflect the light well.
Look for fragility. Rhinestones have lead in the glass or crystal, which gives it the appearance and general shininess. Real rhinestones are soft stones that can be easily scratched. Fake rhinestones are more durable.
Find out the material of the setting. With the exception of some higher-quality rhinestones, most rhinestone is set in tin or foil to mimic the appearance of diamonds. Those stones that do not have a setting are not likely to be rhinestone. Paste jewelry is fairly common and is rarely real rhinestone.
Avoid plastic or acrylic stones. These are not real rhinestone and are only made to look like rhinestone. Usually, these are called rhinestone because the term is often used as a catch all for imitation stones.
Consider the cost of the item. Real rhinestone jewelry will be a little pricier than the acrylic ones. The higher quality rhinestone items, like crystal figurines, can be very expensive.