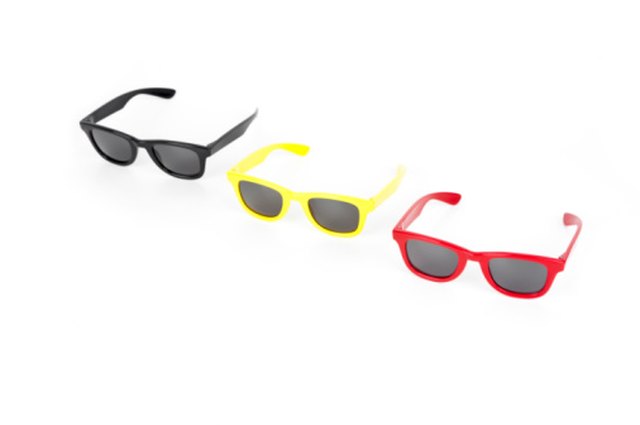 Yasinguneysu/Photodisc/Getty Images
When you purchase sunglasses, you want quality, style and protection for your eyes--not the wool pulled over them in a scam to sell you a fake pair. According to Shadesoffun.com, many people sell counterfeit sunglasses to earn undocumented income, so being able to spot fake designer sunglasses--like Persols--is imperative to ensure you go home with the real deal. There are several key factors to be aware of that will help you determine the authenticity of your Persols--letting you know when to walk away if you spot an impostor.
Spotting Fake Persols
Check the weight and quality of the sunglasses. Hold them in your hand to feel if they have substance and bend the arms back and forth to check for loose screws--the joints should feel strong and there should be no rattle (See Reference 1). A fake pair of Persols will weigh less and will be flimsy, as it will be made of a lower-quality material, alloy and lenses that do not provide proper UV protection (See Reference 2).
Look at the printing stating where the sunglasses were made and the brand. Persols are made by the Luxottica Group: Italy (See Reference 1). If anything else is printed, such as "made in China," you are looking at a fake. All the information should be printed on the arms: brand/origin, model number, color code, lens diameter, nose bridge length and arm length (See Reference 1).
Check the price. Fake Persols will be much cheaper than the authentic ones--more than the typical 40 percent reduction on legal designer knockoffs (See Reference 2).
Look for accessories that come with your Persols. Genuine designer sunglasses usually come with a case, cleaning cloth and paperwork--some even come with the original factory plastic bag, box and tags (See Reference 1).
Tip
Study the Persol branding in detail--if the font, lettering or design is off, you have probably spotted a fake pair, according to Spotfakehandbags.com.
Warning
Selling fake sunglasses and merchandise is illegal, and while you may save some money buying your Persols much cheaper, you will be contributing to corruption, according to Lawholesaledist.com.