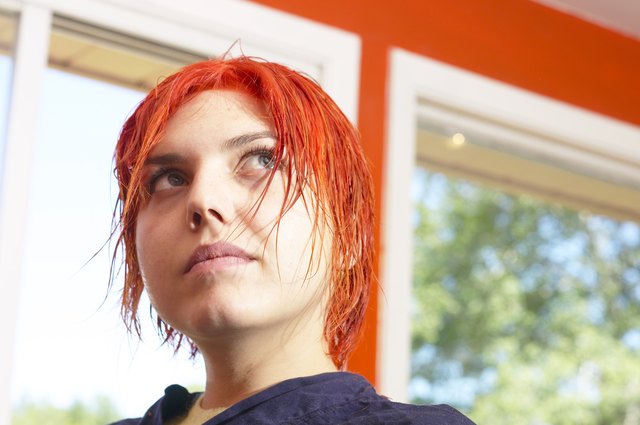 Hemera Technologies/AbleStock.com/Getty Images
If you have a square hairline, you share the same facial structure with celebrity beauties such as Sandra Bullock, Demi Moore and Isabella Rossalini. Each of these actresses has hairstylists who know how to work with wide foreheads and strong jaw lines. Each of them at various times has worn her hair extremely short, mid-length and very long. A few simple styling suggestions will help your hair look as good as theirs.
Part your hair on the side with the hair diagonally drawn across the forehead. This style breaks up the angular forehead features of a square hairline and gives the face a decidedly evocative, come-hither look.
Use a wide barrel curling iron to make your hair wavy, with big, long curls. The waves falling around your face add fullness and draw the eye away from severe lines.
Wear bangs. Depending on the effect you want, they can be long and spiky, angled from the side or contoured to gradually blend into an oval shape with the hair on either side of the face. Here the bangs work to hide the forehead either completely or reveal a small amount with the spiky or windblown effect.
Layer your hair. Layered hair, whether short or long, visually alters the appearance of a square face by softening the jawline. With short hair, layers pull the eye up to the perky hairstyle while at the same time accentuating eyes and cheekbones. With long hair, layers frame the face, adding interest and soft curves along the neckline. If your hair is straight, layering it will add volume and depth to the hair.
Add a permanent to your hair. A curly, bouncy lift to the hair downplays angles and softens facial features. Lift draws the eyes away from the strong facial lines and focuses on the hairstyle itself. Curls also add texture and depth to thin or straight hair.
Backcomb hair and add hairspray at the roots to help hold lift in place. The added height can be styled to cover sharp corners of the hairline.
Style hair under at the bottom to reduce the appearance of a square jaw. The eye follows the hair curve instead of focusing on the jawline.
Feather hair framing the face and comb towards the face. This style hides the hairline itself and can be contoured with gel to give a modern, offbeat look.
Add bold color strands to hair to draw the eye to the color and not the hairline. Play with it within the confines of your personality to find the effect you want. You may prefer bold streaks, light weaving or strong blotches for your new do.