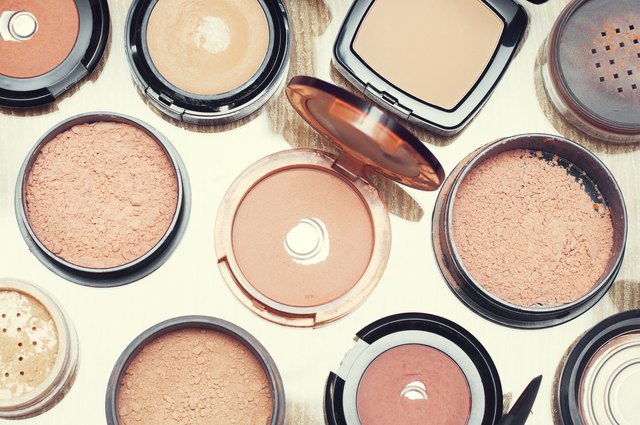 Humid climates, active lifestyles and combination or oily skin make keeping makeup in place a daily challenge. Setting powders and sprays take an extra minute in your makeup routine, last for hours and -- unlike popular myth -- don't have to look powdery and flaky to do their job.
Most loose powders have extremely fine grains and offer a very light, even coverage. Many of these fall into the category of mineral veils or HD powders, which means they are colorless, have a tiny grain size and blend into the tint of your makeup. They also leave your skin with a soft focus finish. If you have sensitive skin, opt for a mineral product, without silicones, which wears well in the daylight.
Apply these loose setting powders after you have applied your foundation and concealer using a large, fluffy kabuki brush. Tap off any excess and buff the powder lightly into the skin for even, luminous coverage. You only need a small amount to get full coverage, especially when working with HD powders. These forgiving products work well for beginners learning how to apply even makeup.
Tips
Apply a light dusting of setting powder over your eyelids before you apply eyeshadow or eyeliner to even out your skin and create a base for your eye makeup.
Many compact powders contain silicones and waxes, which work to set the underlying makeup into a solid. These heavier powder compacts are ideal if you have a performance, a long evening out or really need your makeup to stay glued in place for a long time. Apply these powders with a large, fluffy brush to get light, even coverage.
Alternatively, use a small concealer brush and touch up any oily or fading areas throughout the day. The thicker consistency of pressed powder means exact application and high-quality coverage.
Tips
Since many of these pressed powders contain heavier silicones and waxes, people with sensitive skin should be on the lookout for natural products to avoid breaking out.
Setting and finishing powders have been around for decades but their cousin, the setting spray, is a relatively new invention. These sprays keep makeup in place, have no color and are quick to apply. Copolymers in the product work to create a defense shield against outside interference and many of them also include aloe for a soft, soothing finish. There are tons of setting sprays on the market, ranging from those that balance your skin and produce a matte finish to others that leave a dewy glow. Be aware of the final effect you want.
Spritz after you have applied all your makeup, including your lipstick and eyeshadow. Hold the spray bottle about 6 inches away from your face and mist the product over your face two or three times. You won't need much of this product to create an effective barrier. Allow the product to air-dry and refrain from touching your face once you have sprayed it on.
Tips
Priming your face is as essential as setting. Invest in a quality moisturizer and primer and apply the products in that order before you begin applying your foundation. Your makeup will last longer and look smoother.