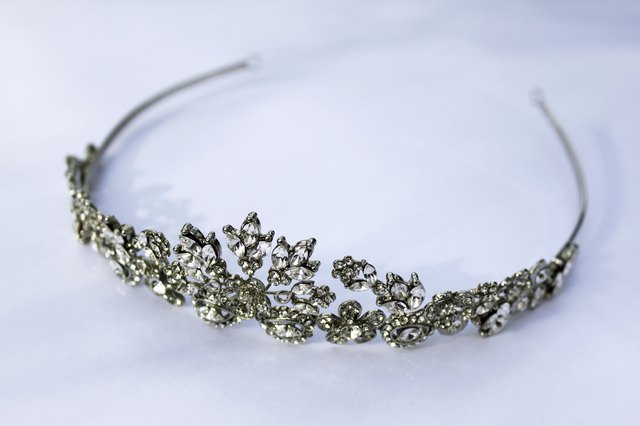 kateshephard1/iStock/Getty Images
Tiaras are the ultimate special occasion hair accessory. They have the power to make any bride, prom attendee or flower girl feel like a princess for the day. But don't just plop a sparkly crown on the top of your head. Plan your hairstyle around it so that it complements your look perfectly.
Regal Updos
Style your hair into an updo before putting on a tiara. Choose pinned up curls and waves, or a sleek bouffant. For non-curly styles, backcomb under the top layer at the crown to give your hair grip.
Position a clipless tiara where your hairline meets your forehead, in front of the section that is combed directly back over your crown. Decide whether you want to push back bangs or leave them out.
Push the two ends of the tiara into your hair behind your ears, then slide it along your scalp gently toward the back of your head. Stop pushing the tiara back when the two end pieces are completely hidden and only the embellished portion remains visible. Position the tiara about 1 inch away from your hairline.
Move your head from side to side to check whether or not the tiara slides around beneath your hair. If it is not firmly in place, slide some hair pins in the same tone as your hair on top of the end pieces to keep them in place.
Hold a can of hairspray about 10 inches above your finished hairstyle. Coat the hair that covers the base of the tiara twice to help keep it in place. Use a freeze- hold hairspray for lasting results.
Pretty Down-Dos
Style your hair in a way that leaves most of it loose and long. Choose a voluminous look by using 3-inch heated rollers at the crown, even if you straighten your hair afterward. Spritz the root with dry shampoo for added texture, because the volume will serve as a base for the tiara.
Hover a tiara with clips about 1 inch back from your hairline at the center of your head. If you have bangs, position the tiara directly behind them.
Push the tiara straight down and into your hair, until the teeth touch your scalp without causing discomfort.
Use the tail end of a rat-tail comb to gently lift the hair behind the tiara to keep the volume intact.
Tip
Tiaras are available both with and without clips. Clipless tiaras are flattering on updos as they blend with ease and can be adjusted with hair pins beneath the crown. Tiaras with clips snap into place without creating extra volume, for a natural looking down-do.
Choose a tiara that complements your outfit and contrasts with your hair color, so that it is noticeable without outshining the rest of your look. Blonde and brown hair pair well with silver tiaras, while dark and red hair complement gold accessories.
Opt for a tiara that contains jewels that match your dress. For instance, if your dress has light pink embroidery, select a tiara with pink rhinestones to make the dress pop.