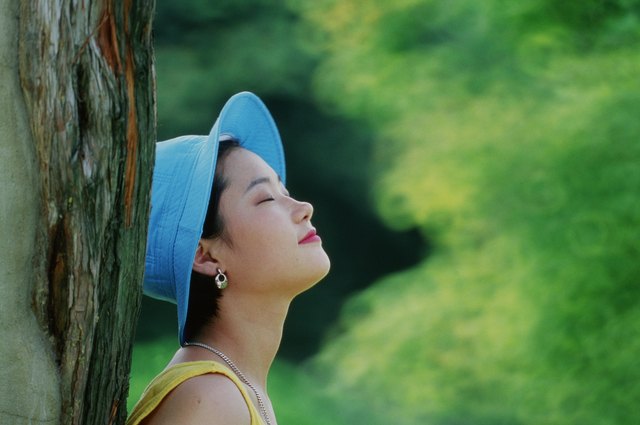 Photos.com/Photos.com/Getty Images
You see pictures in a magazine of models with gorgeous hair full of volume. Ripe with hairstyling ideas and various hair products, you attempt to recreate the looks you see in the mirror. These styling attempts may be in vain if you have stringy hair. Thin hair makes hairstyling difficult because hair tends to look greasy and lifeless after you weigh it down with hair products. Before you give up on your thin stringy hair and cover your hair with a hat for good, learn a few tips on making your hair look fuller.
Skip washing your hair daily. Use a dry shampoo in between washing because it will attach to your hair strands and make it appear fuller. Hair products cling better to unwashed hair.
Wash your hair with a volumizing shampoo designed for thin hair. Use a lightweight conditioner designed for thin hair. Avoid applying conditioner to the roots of your hair, as this will only weigh down your roots and make your hair look flat.
Make an appointment for a haircut. A chin-length bob with graduated or even ends can make your hair look fuller. Another option is a shoulder-length haircut with long layers that frame the face. Cut off dead ends and damaged hair. Although you may hate to cut these ends because you will lose length, your hair will look less stringy without them.
Make an appointment to color your hair. Hair color will swell up the hair cuticles and make your hair look thicker. Discuss with a hair colorist the best shades for your skin tone that will make your hair look thicker. Using multiple shades of highlights at the roots can make your hair look fuller.
Use hair products like mousse and hairspray designed for thin hair that have the ingredients resin, silicon, panthenol and protein. These ingredients will leave deposits that cling to your hair strands, which will make your hair appear thicker. Avoid gels because they can weigh down hair and make thin hair look stringy.
Work in a volumizing mousse throughout your hair, from roots to ends. Flip your head upside down when you blow dry it. Aim the blow dryer on a medium setting toward your roots and brush hair forward with a vent brush. Once hair is almost dry, flip your head right side up and use a medium-sized round brush and continue drying it.
Lift your hair up from the roots with your fingers as you dry. Aim your hairdryer on a cool setting at these roots to lock in the style. Smooth your fluffed-up hair gently with your hands or with a bristle brush. Avoid overbrushing your hair so as not to lose the volume.
Part your hair in a slightly messy zigzag to create the visual illusion that your hair is thicker than it actually is.