Once an entree served in New York City's finest 19th-century hotels, hash browns are a ubiquitous item on many American diner, restaurant and fast-food breakfast menus. The ideal hash brown cake resembles a crispy browned potato cake with a soft interior, but homemade versions often won't hold together or don't brown properly. Two techniques can help prevent these problems: Get as much water out of the potatoes before cooking, and use a small amount of heated fat to hasten browning.
Peel the potatoes. Grate each with a box grater's large holes or a food processor with the shredder attachment in place.
Pile the grated potatoes into the middle of a large kitchen towel. Wrap the towel securely around the potatoes and squeeze repeatedly until no more liquid is released.
Heat a large nonstick or cast-iron skillet over medium-high heat. Place butter in the skillet, and allow it to melt and start browning. Plan on using 1/2-tablespoon butter for every 1 pound of potatoes you are cooking.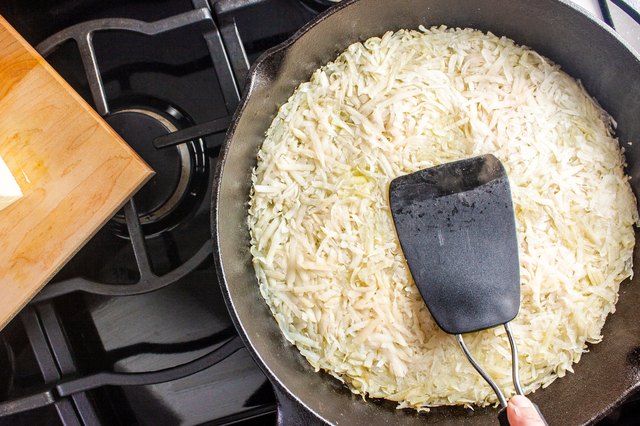 Tilt the skillet to ensure that the entire surface is lightly coated in butter. Arrange the grated potatoes in an even layer in the skillet. Press down on the potatoes firmly with a spatula or pancake turner.
Lower the heat to medium. Cook until the side of the hash browns touching the skillet is dark brown and crisp, allowing approximately 8 minutes for 1 pound of potatoes.
Slide the hash browns onto a plate. Place a second plate over the hash browns and invert the plates so that the browned side is now facing up.
Melt more butter in the skillet -- 1/2 tablespoon for a hash-brown cake made from 1 pound of potatoes -- and slide the hash browns in, browned-side up. Cook until the second side is browned and crispy, about 5 minutes.
Remove the hash browns from the skillet. Cut into wedges and serve hot.
Tip
Two medium-sized Russet potatoes are equal to 1 pound and will serve approximately four people.
Use olive or canola oil for hash browns lower in saturated fat.
For additional flavor, toss the grated potatoes with seasonings like grated onion, minced fresh herbs or spices after the water has been squeezed out.
While you can experiment with different potatoes for your hash browns -- Yukon gold or sweet potatoes, for example -- the editors at America's Test Kitchen say the starchiness of Russet potatoes makes them the best choice for hash browns that won't fall apart.
To prepare individual serving-sized hash browns, shape the grated potatoes into the desired number of cakes before cooking.
Warning
Wait to grate your potatoes just before you plan to cook them. Once potatoes have been peeled and cut, air exposure begins to turn them brownish-black. They still taste the same, but look different than hash browns made from freshly grated potatoes.