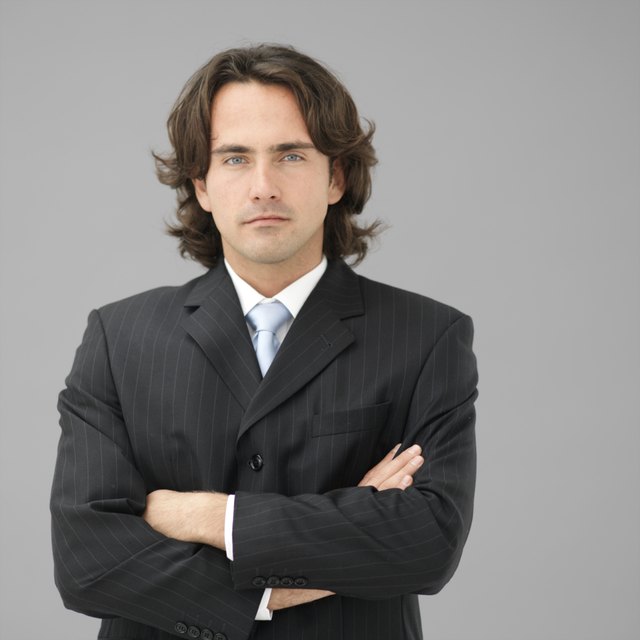 Stockbyte/Stockbyte/Getty Images
Everyone from pop stars to professional athletes can be seen wearing a casual, flipped-out hairstyle these days. Similar to the shaggy mop-top of the 1960s and '70s, this trendy style adds a subtle upward curl at the sides and back of the hair. Usually bangs are grown long and left to drape over the forehead, resulting in a smooth, laid-back look. Though men with wavy hair can achieve this look naturally, it can be recreated with a few simple styling supplies.
Wash and condition the hair as normal, and rinse thoroughly. Leave the hair slightly damp after washing and rinsing.
Fill your palm with styling mousse and massage it into all parts of the hair. Comb the hair straight down at the sides and back of the head.
Brush the hair on one side of the head downward using a circular brush. When you reach the bottom of the hair, rotate the brush backward to curl it upward. While holding the brush in place, heat the curled hair with your hair dryer on a medium heat setting.
Repeat this step for the back and opposite side of the head.
Brush the bangs across the forehead and apply supplemental styling products if desired.
Tip
For a more noticeable hair flip, use more mousse and expose it to heat for a longer amount of time. Wearing a hat over wet hair and allowing it to air dry can also produce this effect.
Warning
Do not use your hair dryer near a toilet, shower or bath.