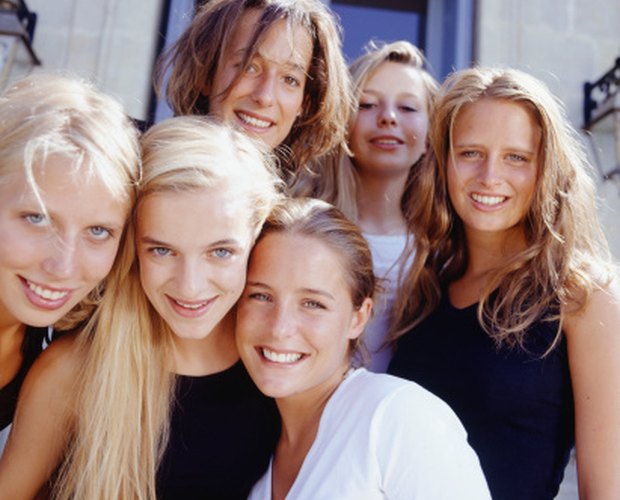 David De Lossy/Photodisc/Getty Images
Sorority girl style is at once fashionable and functional. Women of college age who don the look hone in on classic clothing that registers as chic no matter the fashion season. At the same time, sorority glamour reveals the personality of the academic lady. What's more, it indicates the poise with which she hopes to enter the real world. Quality college fashion can be pricey, but smart, sorority-apt choices come with little pomp and circumstance.
Splurge on excellent denim. A great pair of jeans is the foundation of sorority girl fashion. Locate the brand that fits your curves best and invest in multiple styles: skinny, wide leg, etc. Purchase about four pair, and ensure that at least one pair is comfortable above all, not necessarily fashion-forward.
Flaunt a deluxe tote bag. Vineyard Vines and Longchamp produce totes personalized with many colleges' mascot or symbol. Have your bag engraved with the Greek letters your choice sorority.
Select a knockout dress or two. Confirm each piece flatters your figure expertly. The "little black dress" can, but doesn't have to, factor into your choice. Also, peg a vibrantly colored frock that's appropriate for your skin tone. This will come in handy should you aim for wintertime sorority recruitment.
Pin down a beautiful button-down, no matter the price. A well-fitting white button-down or glamorous polo can distinguish you during interviews for jobs or internships.
Adorn yourself with brilliant accessories. A twinkling set of diamondette earrings here, and a sterling silver bracelet there go a long way to polishing your look.
Gild your feet in cute ballet shoes for warm weather and top-notch riding or snow boots for muggy weather. Avoid sheepskin boots at all costs; they're a bit cliche.