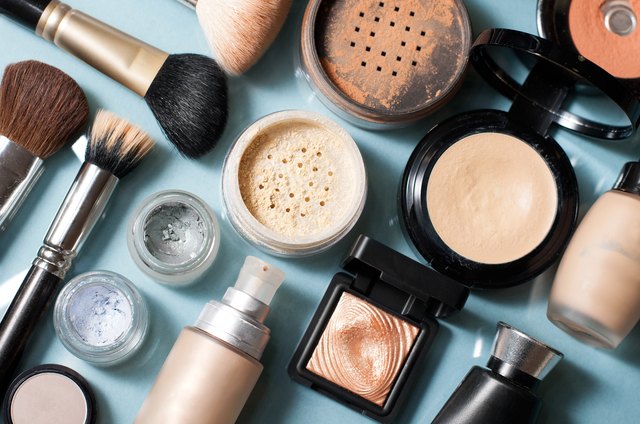 Undereye circles and fine lines pose serious challenges when applying the perfect, all-day foundation and concealer. The thin, sensitive skin under the eye moves and bends throughout the day, causing creasing and unevenness. Moisture, highly pigmented products and a light hand help to keep your concealer looking refreshed and natural.
Creased makeup often occurs because the skin around the eye is dry and needs a little more moisture to plump up fine lines and soften the skin. Before you apply any concealer, dab a moisturizing eye cream or a lightweight face oil under the eye. You only need a pea-sized drop. Gently dab the oil under your eye and at the outer corner until it is completely absorbed. Avoid over-applying the cream or face oil, because too much moisture will make the makeup slip and slide.
Invest in a highly pigmented, full-coverage cream concealer. Products with a high concentration of color require a lighter application, which means less creasing over the course of the day. Cream products are also less likely to create a powdery effect. Look for a concealer that is one to two shades lighter than your skin tone, but be sure it doesn't appear ashy on your skin, which means the concealer is too light.
Place a pea-sized dot of the cream concealer on the back of your hand. Dip your clean ring finger into the concealer and lightly dot underneath your eye. Gently blend it in with your finger, using small dabbing motions, until it sits smoothly. You can apply a little more if you need a boost in coverage, but the thinner and more even the concealer, the less creasing occurs.
Tips
If you prefer not to use your finger for blending, invest in an egg-shaped makeup sponge, which gently distributes color for a completely even, light finish.
Depending on your skin type, you may want to keep that creamy texture in place with a setting powder. Those with oily skin should invest in a fine-milled sheer veil, such as a high definition powder or mineral veil. These powders reflect light, go on sheer and blend into skin naturally due to the extremely fine size of the particles. Sweep the powder under your eye with a small, fluffy brush. Keep the application as light as possible to create a smooth finish. A powdery finish often encourages fine lines and creasing to appear.
To refresh your undereye concealer during the day, when it tends to crease, dab a lightweight moisturizer under your eyes. You only need a tiny dot of moisturizer to plump up the skin and smooth out the unevenness. Remember to apply with light dabbing motions to avoid rubbing the makeup out of place or disturbing sensitive eye skin.