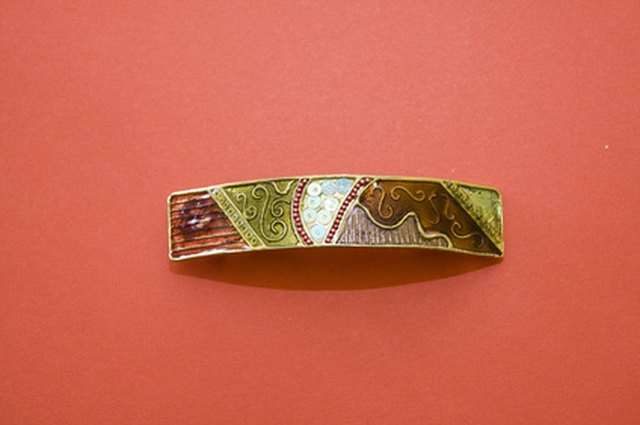 barette à cheveux image by YvesBonnet from Fotolia.com
A hair comb is a hair accessory with many teeth. Similar to a comb used to detangle the hair, hair comb accessories are usually shorter in length. A hair comb is used to decorate the hair and hold it in place. Your hair can be any length and you can still wear a hair comb. Anyone with an inkling of style can sport this accessory.
Style your hair the way you want it to look. If you're going to wear your hair up, use a small elastic and put your hair in a ponytail. If you are going to wear your hair down, leave your hair loosely flowing down your neck.
Hold the hair comb up to your hair to get a feel for where it will look best. If you put the comb in your hair too soon and you need to take it out, you will mess up your style. Instead, visually determine the best place for the hair comb before you insert it. There's no "right" place to put the comb, so don't be afraid to be creative. Put the comb on the top of your head, the side of your head or wherever you feel like putting it.
Hold the comb with the teeth pointing downwards at about a 45 degree angle toward your scalp. Put the comb in your hair and push it into your hair so the comb's teeth get a good grip. Flatten the hair comb out as you push the comb further in. None of the teeth should be showing. If your hair is thicker, you can keep the teeth parallel to your scalp as you push the comb in. Thick hair will hide the teeth more easily than thinner hair. Adjust the comb with your hands to straighten out the decorative piece on the end of the comb.