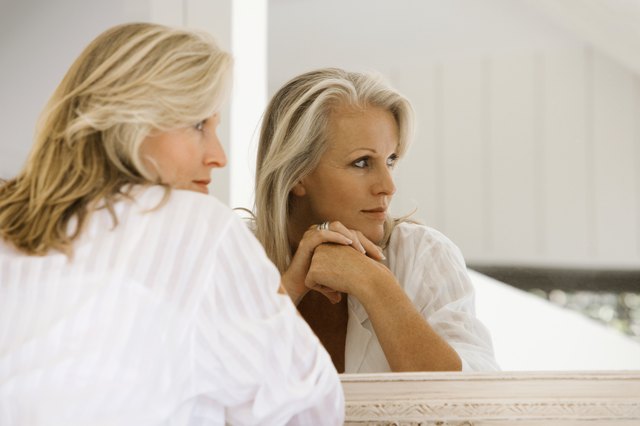 Goodshoot/Goodshoot/Getty Images
A wrinkled neck and decolletage is one of the effects of aging. Excessive sunbathing accelerates the appearance of wrinkles around the the neck and chest in some people. This is because the skin is thinner there than on other parts of the body, such as the outer arms. There are several ways you can hide your neck or detract attention from it.
Make scarves a feature of your style. Collect them in colors that complement your wardrobe, and in a range of fabrics, so you can wear them year-round. Try various ways of wearing a scarf with different styles of clothes. It is easier to wear a scarf or pashmina in colder weather, but a floaty, chiffon scarf can add interest to a summer dress with a low neckline.
Wear polo-neck tops, cowl-neck tops or loose turtlenecks. Although cowl-neck styles don't hide as much of your problem area, they draw the eye away from the neck to the clothing. It is possible to hide your neck completely by wearing turtlenecks, but they aren't suitable for hot weather and some people find them constricting.
Start a collection of bold necklaces, and avoid wearing delicate jewelry as it tends to emphasize wrinkles. Necklaces with oversize beads -- plastic, wood or metal -- and semiprecious stones are ideal. Ethnic jewelry also works well. Or layer longer chains and shorter necklaces as another camouflage method. Former first lady, Barbara Bush admitted she wore multiple strings of pearls to hide her wrinkled neck.
Switch from round or boat-neck tops to shirts with collars. You can wear a man's style shirt with the collar up and close it at the neck with a stunning brooch, to add a feminine touch. Even wearing this type of shirt with the collar down keeps the neck in shadow. Shirts with high, frilled necks are another option, as are pussy-cat bow types.
Increase your neck care. Neck creams and regular exfoliation help reduce wrinkled appearance, as does drinking at least eight glasses of water daily. Avoid sleeping with your neck on too many pillows, if possible. High pillows are considered a major cause of wrinkles around the neck and jaw. A fetal sleeping position also creases the chest area over time, but sleeping flat on the back is not always an easy alternative. Exercise the jaw and neck by tilting the head straight back and holding the position for 30 seconds. This helps prevent wrinkles.
Tip
Check your posture. Keeping your head high and elongating the neck reduces the appearance of wrinkles.