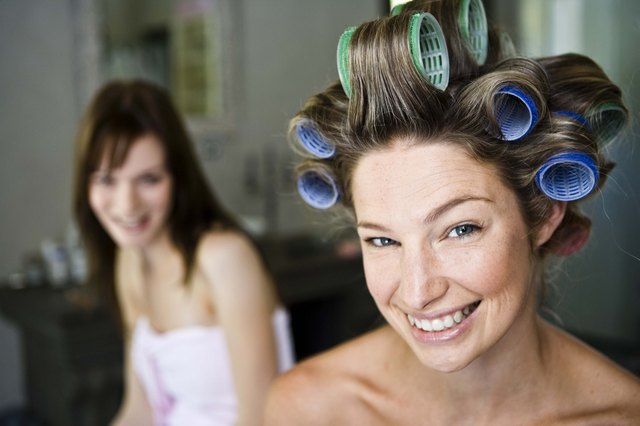 Jupiterimages/BananaStock/Getty Images
Going from blah to brilliant does not require expensive spa treatments, high end cosmetics or a trip to fashion week. There are a multitude of ways to give yourself a mini makeover and really liven up your look without breaking the bank. Most of it starts with simple things you can do to improve on what you already have. A few inexpensive things to add to the mix and before you know it everyone will want to know the secret to your fabulous makeover.
Take stock of where you are and what you want. If you want radiant skin, different hair or a new look in clothing, you need to prioritize and come up with a plan that can work with both your schedule and budget.
Tackle inner beauty first. Look at your skin and hair and determine if you need improved nutrition to perk up both the way you feel and look. One of the biggest contributors to looking blah is feeling blah because of poor diet or lack of sleep. Be sure to get adequate rest, drink enough water during the day and make some dietary changes to help your body and skin look and feel more radiant. These changes cost basically nothing and have long lasting effects.
Visit a beauty school for a discount new hair style. Cosmetology schools provide less expensive services than established salons. Decide before you go what kind of new look you want for your hair and discuss with the instructors who will be best able to work with you. The services are less expensive and you won't have any high end perks, but you will get a new hair cut, color or style for much less.
Shop cheap. Go to second hand and thrift stores. Search for classic looks that suit your style or something that is fun and looks cool. Often finds can be had of new or barely used designer clothing. When you shop second hand or thrift stores you never know what you might find, but it will be cheap.
Study make up displays for current trends in color and styles. Try a single eyeshadow from a less expensive line that matches the higher end color or is close to it. Do the same for blush, eyeliner and nail polish. Practice the look at home and recreate the trends you saw when shopping.
Hit the dollar store for beauty supplies. Many of the discount chains sell the same name brand beauty care and makeup items that the more expensive drugstore or chain stores sell, but for less. You can also find tried and true treatments that get the job done and don't have a salon name. Queen Helene is a well known beauty line of facial care products, such as masks and hair treatments, that work very well. Mane and Tail is a recognized hair line that can curb frizz or dry hair as well as expensive salon products do, without the high price.
Whiten and brighten, clean and trim. Check your teeth and use a store bought whitener. Brighter teeth are one of those improvements that can get you noticed for the right reasons. Make sure your eyebrows are trimmed and shaped; remove excess hair with store brand waxes or depilatories for less.
Plan a night to showcase your new look. Pick a thrift store outfit that is new and fabulous, practice your new hairdo and makeup routine and call up your friends for a big debut.