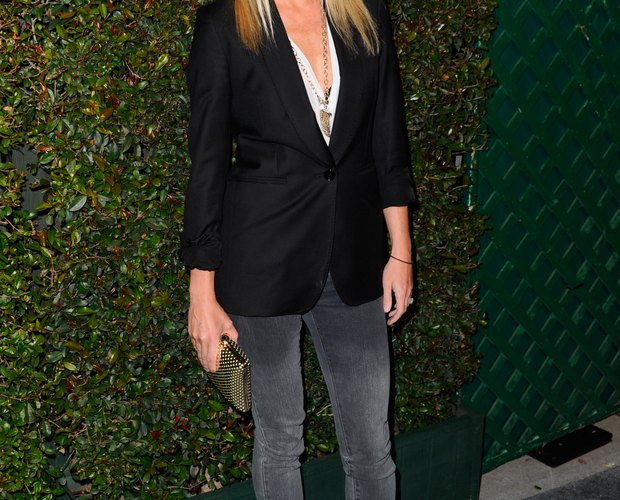 Alberto E. Rodriguez/Getty Images Entertainment/Getty Images
From the surfers in Malibu to the hipsters in Venice to the big spenders in Beverly Hills, Los Angeles also has its fair share of visitors, tourists and newcomers. The key to looking like an L.A. local wherever you go in the sprawling beachside metropolis means fully embracing SoCal's laid-back vibe and choosing your accessories wisely. It also doesn't hurt to learn the art of layering.
L.A. Staples
Wear easy-going, comfortable pieces, like jeans and a T-shirt. Whether you're taking in the view from Griffith Park or grabbing sushi in Santa Monica, you can't go wrong in these ubiquitous basics. Opt for a youthful look in light-wash, ripped jeans or go with dark denim trousers for upscale, casual chic. A colorful graphic tee or tank top will never look out of place in the trendy town, or keep things California cool in a plain, slouchy V-neck. For a more feminine ladies' daytime look, throw on a sophisticated yet easy maxi dress. Complete your L.A. vibe with a pair of stylish sandals. Although flip-flops are popular among Angelenos, slide-ons are just as chill.
Laid-Back Layering
Bring lots of light layers. Although the city's Mediterranean climate is temperate year-round, winter in L.A. -- prime time to visit the city -- can be a mixed bag. Normally the rainy season, it might be damp and chilly or, if a Santa Ana gust is blowing through, windy and hot. Be prepared for any situation by donning base pieces in lightweight fabrics -- think cotton tees and jeans or leggings -- and adding on outerwear as needed. A sporty hoodie, chunky knit sweater, denim jacket or stylish vest are smart options that work for both genders. Pack a pair of walking sneakers or zip-up booties for cooler days and nights.
Sunset Style
Tweak your daytime look for an L.A.-glamorous evening. Guys can simply swap out their casual cover-up for a tailored blazer or trendy leather motorcycle jacket and snazzy oxfords or leather ankle boots, and pair with their daytime denim. Ladies can amp up evening apparel by swapping jeans for leather leggings or a slip dress topped with a faux fur vest or tuxedo blazer. Finish with strappy metallic high-heel sandals.
Angeleno-Style Accessories
Add panache to basics with savvy accessories. In trend-driven L.A., oversize accents and bold colors and patterns are always welcome, so feel free to rock hoop earrings, an embellished clutch purse or layer after layer of delicate necklaces or rings. Guys can opt for a brightly colored watch, funky fedora or scarf. From tinted aviators to classic cat-eyes to sporty wraparounds, no Angeleno would be caught dead without sunglasses -- always keep a pair or two on hand.