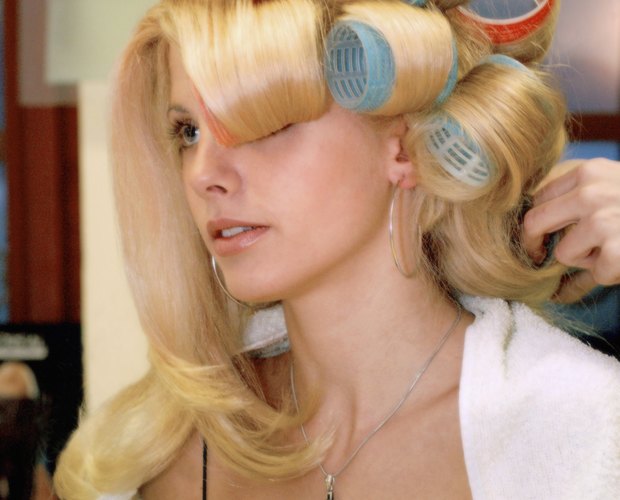 Medioimages/Photodisc/Digital Vision/Getty Images
Beauty, scholarship and natural pageants all focus on a contestant's appearance and poise. But glitz pageants are the most dazzling of them all. In a glitz contest, the participant's every detail, including costumes, nails, teeth and hair must all exude perfect glamour and pizzazz. These types of pageants are no place for a conservative look. So, regardless of your age, if you'll be competing on a glitz pageant stage, prepare to go all out in order to achieve a fabulous hairstyle. Fortunately, you can do so without the help of a professional hair stylist.
Wash your hair using the shampoo of your choice. Then deep condition it by leaving conditioner in your hair for up to thirty minutes before rinsing it out. You don't need a deep conditioning product to do this, but you can use one if you'd like. It's important to start with freshly washed hair before the styling session begins.
Use a blow dryer on a low or medium heat setting to dry your hair thoroughly. As you pass the dryer over your hair, use a comb to detangle it by combing from the ends of the hair upwards.
Hold a two- or three-inch section of hair in one hand and secure the rest of the hair with a clip. Lift the small section upwards and then gently comb downwards to tease the hair and give it more volume. For the time being, your hair will look frizzy and messy, but this step is absolutely necessary for achieving big pageant hair. Continue teasing section by section until the entire head is done.
Smooth the hair at the front hairline to one side using a brush. If the hair is stiff, spray it lightly with water and then brush the section until it's smooth. Use decorative hair pins to secure the hair so that it's away from your face.
Make a part at the crown of the head that runs horizontally, from ear to ear. Then take your brush and smooth everything above the parted line into a loose ponytail that you can secure with an elastic hair band.
Work section by section with a curling iron to make cascading ringlets out of the hair that's below the horizontal parted line. Although this hair was teased, you should have no problem smoothing out each section and then twisting it around the curling iron. Do the same for the length of the hair that you've smoothed into a ponytail. The curls should all be the same size.
Spray the entire head with glitter hair spray to give it more glamour. Then finish off the look by spraying holding spray so that the hairstyle stays perfect while you are on the glitz pageant stage.
Tip
If your hair is particularly thin, consider adding clip-in hair extensions to give the appearance of big hair.
References