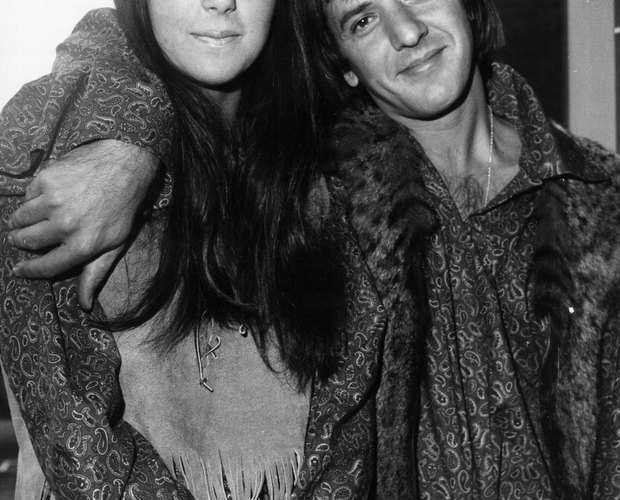 Douglas Miller/Hulton Archive/Getty Images
Few faces are as instantly recognizable as Cher's. The songstress is never afraid to experiment with makeup, but her most famous look remains the one she donned in the 1960s and 70s. The eye is the focal point, pairing a neutral across the lid with a deep smoky shade through the crease, and finished off with a slight feline flick of the liner. Recreate Cher's makeup look at home for your next costume party, or for a chance to inject some vintage flair into your personal look.
Pour a quarter-sized amount of makeup primer onto your fingertips and massage it into clean skin using upward-circular motions. This will create a smooth surface for makeup while helping it to last longer. Use a primer suited to your skin type for best results.
Pour a quarter-sized amount of liquid foundation onto the back of your hand. Dip a flat-topped buffing brush into the product once. Liquid foundation creates the smooth, flawless finish that Cher was known for and works better than other formulations. Use a foundation that matches your natural skin tone.
Dab the foundation once on your forehead, on either cheek, and once on your chin. Blend the foundation into your skin until your entire face has been covered and all streaks are dissolved. Apply the remaining product on your brush to your neck using the same method for a natural finish.
Swirl a large powder brush in a pan of matte translucent pressed powder. Pat the powder over your entire face, pressing the brush instead of swirling it, to set your foundation. Cher was known for a matte look.
Dip a pointed contour brush into a pan of taupe- or bronze-based blush. Suck in your cheeks to make your natural cheekbones more visible, and position the brush directly beneath the top of your cheek bone. Move the brush in small, circular motions toward your ear, following the contour of your cheek. Repeat on the other cheek. Cher rarely wore blush, but opted instead for a chiseled look. Matte taupe eyeshadow is also suitable for contouring.
Use your fingertip to pat a beige cream shadow all over your lid, up to your brow bone. This will even out the tone of your eyelid, highlighting to lift the brow, and serving as a base for the other shadows.
Use a flat eyeshadow brush to apply matte peach eyeshadow over your eyelid, stopping at the crease. Dip a fluffy eyeshadow brush into a pan of dark-brown powdered shadow; tap the brush on the side of the pan to remove any excess. While looking down, position the brush in the crease of your eye in alignment with your tear-duct. Sweep the brush through the crease, using a windshield wiper motion and back again repeatedly.
Position a black liquid-liner pen on your upper lid, directly above your tear-duct. While looking down slightly, drag the liner along your lid, as close to your upper lash line as possible. When you reach the outer corner, create a small flick directed toward the top of your ear. Repeat on your other eye.
Place a black kohl liner directly beneath the outer corner of your lash line. Create a line that ends where your tear duct begins to fully outline your eye. Repeat on the other eye.
Wiggle a volumizing mascara into the root of your lashes, and pull it through to the tips. Repeat three times on the upper lashes for a false lash-effect. Hold the mascara wand horizontally, and pull it through your bottom lashes from root to tip to define them.
Outline and fill in your lips with a nude lip liner. Cher opted for a rosy nude. Pat a lipstick in a similar tone over top of the lip liner. Use a lipstick with a creamy finish, as Cher's lipsticks typically sat between matte and glossy.